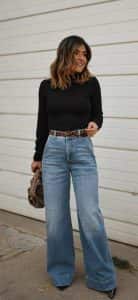 As I shop in the stores alone or with clients, I do still see skinny jeans out there. As an Image Consultant, I believe we will always have them. I believe, is a classic due to wearing high boots and the overall admiration for them among jean wearers. I do like to have a pair or two around to wear with boots that are knee-length or tucking them into the Cowboy boots I love.
But time and trends march on. The attitude toward skinny jeans really became apparent when the Bachelorette, Katie, was ridiculed for wearing her skinny jeans (and her side part) by many current influencers from social media. Here is the article if you'd like to read it from People.
I love it that she pointed out that it was a Gen Z "thing." At our image consultants' conference last June I listened to a whole seminar about Generation Z. I thought it was interested that this group of young people is projected to be even more successful than Baby Boomers. I hope so!
Are Skinny Jeans Out? Image Consultant Beth Divine Weighs In
Anyway, banter aside, I, too, was slow in warming up to the skinny jean. It also happened in a roundabout way. I first tried the wider leg pants. These are not the Mom jeans. These pants just create a different silhouette. When I purchased a navy jumpsuit with wide legs I could not believe how great they looked. The shape did require heels to look the best. Although now I do wear some of my jumpsuits with sneakers and flats. At this point, I was more open to the idea of wider leg jeans.
When asked what is the No. 1 denim trend for 2021 (and we're more than halfway through the year) it's Boot-cut jeans (Who What Wear). So, now that we've established that…What is the main beef with these jeans? I think it comes down to bewilderment about how to wear them, particularly with tops.
How To Wear Wider Legged Jeans
It all comes down to balance, as really all of dressing your shape does. You don't want to look lopsided, top-heavy, bottom-heavy, etc. What a wider leg pant does to your outfit is it creates fullness at the bottom. That means if you wear a wider-leg jean with a big top (or loose) top, it is off-balance. So the key to wearing this type of jean is to reach for a fitted top that does not look wide or loose.
Depending on your age and style, that fitted top might be a crop top, a slim-fit button-down shirt, a ribbed sweater, or a fitted blazer. For many even thinking about wearing a top that is fitted is not a good start. Many clients I have, and really so many people in general, weigh a little more than they like. They want to cover it up by wearing bigger, loose clothing. It's comfortable. But, that is not the right road to take. Clothes that fit are always more slimming. Now I am not saying tight, just "fitted."
Here are good examples of boot-cut jeans and the tops that make them shine. I found the pictures for this blog on Pinterest.
Image Consultant Can Help You Modernize Your Look
What's in and what's out are hard to keep track of. Stop worrying about trying to be on the latest trends, and book a wardrobe styling appointment with a certified Image Consultant. If catching up to the latest fashion trends is your top goal, let me know and we'll find the most modern clothes to fit your style. Also, subscribing to my blog is also a good idea. I'm always sharing trends and hot tips. Signing up for my newsletter will send the latest blogs right to your inbox! Sign up today!
Keep it sassy, Indy.
Beth Divine, MA, AICI-CIC, Image Consultant