Services
---
Color Analysis
A color analysis is a consultation where I will pinpoint your fashion style, analyze your skin tone and hair color, measure you and identify your shape in order to find a style that best fits you. When you wear clothes and accessories that compliment your every feature, it's hard to not be confident in your every day life. At the conclusion of this appointment, you will be provided a tip sheet for dressing your shape and a color swatch book to reference in your future shopping endeavors.
Closet Cleanse
A closet refresh and cleanse based on your lifestyle and needs. After a brief meeting, I will go through your closet and create some new outfits and recommend what to keep, donate, or alter. I will follow up with you after our meeting with a look book of the outfits we create. Extremely large closets will be quoted up front because prices may vary. Consult lasts up to three hours.
Personal Shopping
Starts with a short consult to discuss your needs and create a shopping plan based on your own personal budget. I will pull clothes for you and you will meet me to try on what I have selected. All items you purchase will be photographed. Lasts up to five hours total, including the first consult meeting and my pre-shopping for you. If the day is extended and more shopping is needed, prices will vary.
Testimonials
---
"I was able to meet with Beth quickly and our meeting was very thorough. We worked through my goals, style, colors and shape. our subsequent shopping trip was very successful."
"I am really enjoying the close and glad you introduced me to some styles and colors I wouldn't have ordinarily tried. It also encouraged me to sweep through my closet once more and par down a little bit more."
"My experience was even better than I expected. Beth is knowledgeable, and I got a lot of very practical advice on my wardrobe – what to get rid of and also what to keep."
"Beth was great at finding the pieces I wanted but also introducing me to colors, patterns, or styles I wouldn't have thought to try. She helped me break out of my mold, assess what works on me and what doesn't, and now I feel more confident building on the wardrobe we started together."
"Beth helped me go through my closet to find what worked for me, she also helped me shop for new pieces that were fabulous on me. I highly recommend her services."
"Beth was terrific at helping me improve my style–she was thoughtful in her recommendations and helped me learn how to shop to be able to maintain what she taught me. Highly recommended!"
"After 5 hours with Beth, I learned which colors are best, what styles are suitable and what color shoes go with what colors of clothing. It's an elementary skill that most people learn growing up, but it's not easy for me. With Beth's teaching, I have a little knowledge now and hope to keep expanding and learning."
"You must get a closet cleanse. This is a key step! I wish I had met Beth in my 20s so that I could have learned what works for me. Now that I am in my 30s, I am happy to finally learn what I should have known about myself years ago. This is an experience every girl or guy should have!"
"Beth was wonderful! Very professional and knowledgeable. We will definitely use her services again."
"Simply wow! In addition to helping me completely rid my closest of all the cloths that didn't look good on me, her selection of new cloths for my upgraded style absolutely ROCKS! This is the first time in my life I've ever experienced women acquaintances and even women I don't know spontaneously commenting on how sharp I look! Beth took a personal interest in my style goals and objectives. My only regret is that I didn't secure Beth's help earlier in my career."
"Beth had a lot to handle with me. A stuffed to the ceiling closet, and a plus-sized client. She found my complementary colors quickly, and discerned what I should keep, donate, and send to consignment with a cheerful and positive attitude, always kind, and with her eye on lasting style. I do not like to shop because I am difficult to fit, but we found several beautiful outfits at Dress Barn. She even gave me make up advice, and put some outfits together for me. We had the added stress and excitement of a newspaper team doing an interview and taking video of us, but she handled it with grace and ease. I highly recommend her services."
About Beth
---
An Indianapolis Personal Stylist to Help You Look divine!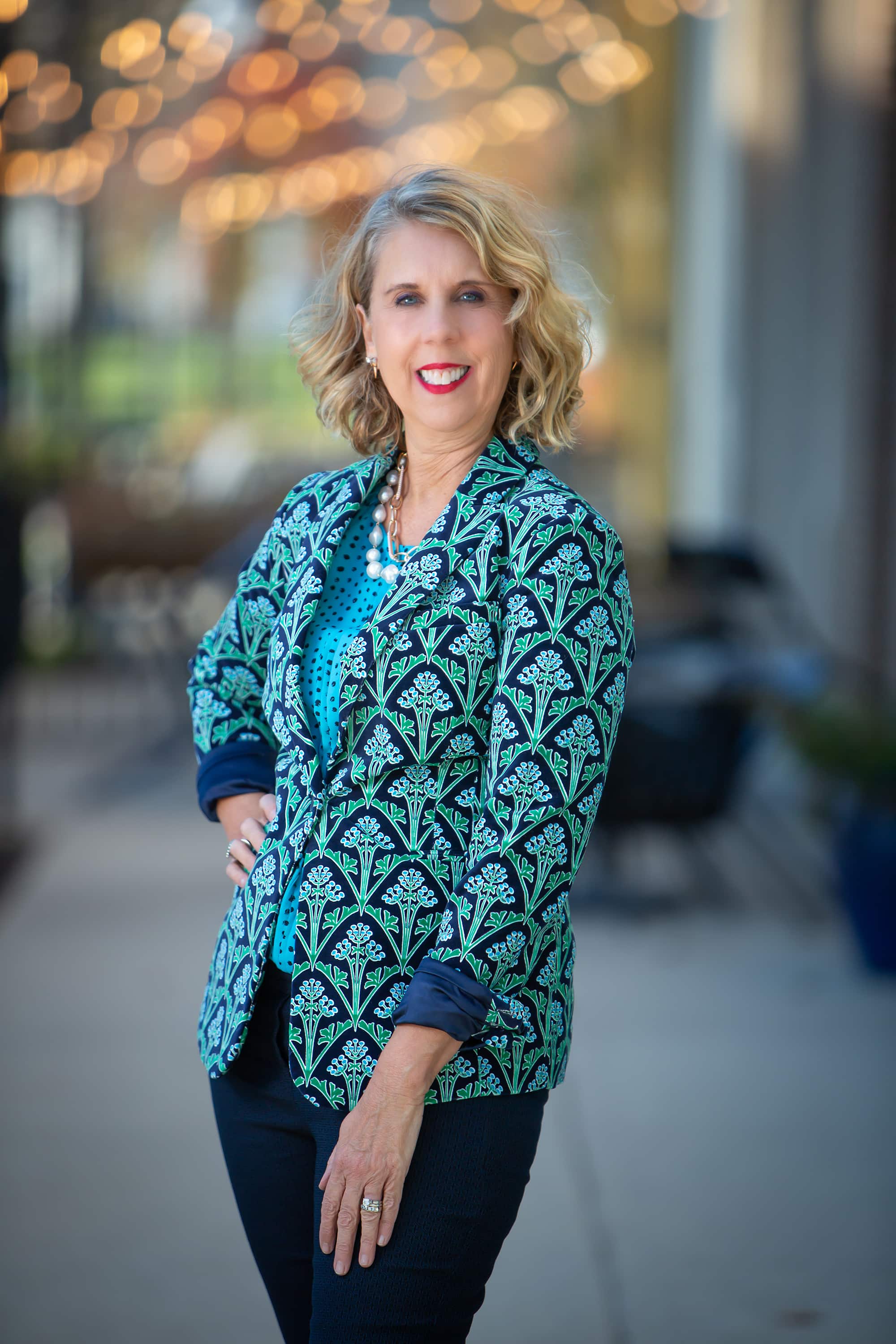 We've all had that feeling: I don't have anything to wear! What I have doesn't work. How can I have a closet full of clothing, but none of it goes together?
There are many answers to your questions—not all simple! We all change throughout our lives. Knowing that, our clothing style changes as well. When we are younger and have smaller budgets, we are building a career wardrobe and trying to look attractive when we go out! As women and men progress through the child-bearing years, later working years and retirement, our wardrobes need to adjust as well—many times they don't however. An Indianapolis personal stylist can assist you in this process and finding a wardrobe that works for your present lifestyle.
Think about how the work world has changed the last 15-20 years. Who would have ever thought that law firms and industries such as insurance would adopt a more casual dress code? It's refreshing in many ways, but in other ways, it causes confusion for employees. What do I wear? How can I look more dressed down but still professional? It's certainly not the old school way of wearing the Brooks Brothers uniform for all upwardly mobile men or the conservative matched skirt suit for women. Even those who work at home may need a polished jacket for a video conference.
The casual dress code also extends beyond work. Another important influence on personal style is ath-leisure clothing. If you are a stay-at-home mom who cares for her family, you may wear workout clothing nearly all the time. You know you need some other items but are not sure what to buy. Yoga pants are here to stay, but there are ways to make your look more pulled together and stylish. Cover-ups, accessories, colorful jackets can all enhance the basic workout uniform. Men may need some advice on what to wear on the weekends – besides gym clothes. There are so many clothing choices with new designers just for men. The options a personal stylist can provide are exciting!
Indianapolis' Preferred Personal Stylist
Still other Indianapolis clients will tell me they never really had a "style." Maybe a woman never really bought her own clothing or always wore hand-me-downs. Or she was never that interested in what she wore or how she looked. At this chapter in her life, however, she has the time and desire to discover who she is – or can be. She wants to find clothing to express her unique style.
Other lifestyle changes such as relationships, a move to a new city, retirement or even weight loss influence style. For others, it's just a question of time: they are so busy and may not like to shop because they have trouble finding a good fit or styles they like. The first important step is the closet cleanse. From this, I can often tell where a client is his/her life and what steps to take next.
How I Became an Indianapolis Personal Stylist
Fashion styling is actually a third career for me. I worked in the professional world for nearly 23 years as a writer and editor in corporate communications. I do understand the need to look professional yet be comfortable. I often wish someone had given me advice about style while I was working!
Before I started learning about being a personal stylist I was a makeup artist here in Indianapolis. I still love makeup and believe it is an important part of your look as well. For female clients, we will discuss skin care and makeup choices as part of the style consultant—and with men their cleansing and moisturizing routines. I have my favorite products and am glad to give you my recommendations! I will ask you: What is your makeup routine and how do you take care of your skin. It's important!
All in all, we work together to help you accomplish your personal style goals. Whether it's a one-time dynamite look for a special event or a wedding, a complete closet overhaul or a shopping trip, consider using my company for your styling needs. Read some of my reviews to learn more about some of my clients' thoughts of me as their  personal stylist.
To follow me on Facebook, to to Facebook.com/Lookdivine. My weekly blog with tips from a personal stylist is on bethdivinestyle.com, and my Pinterest page is (Beth Divine Gastineau). I also write style articles for Kit magazine (kitindy.com). Also, as one of my clients, you will receive a periodic newsletter with personal style tips and my favorite fashion trends.
Contact Beth
---