The white T-shirt has so much versatility, and it doesn't have to be reserved only for Saturday morning errands. Sometimes styling a basic is the best way to make a statement, and it's always a good idea to have core items in your closet that are quick to put together and pair well with a number of other pieces. As an Indianapolis Personal Shopper, I recommend including a plain white t-shirt in your capsule wardrobe. You'll be so surprised at how versatile it can be!
How To Wear The White T-Shirt From An Indianapolis Personal Shopper
Before we discuss the really cool basic shirt, let's talk about the ones you have. From season to season, white shirts can lose their crispness, color and even show stains or tears. If your T is less than fresh-looking, use it for cleaning rags or other purposes. Don't keep wearing it. That is the first rule: Make sure your T's are "wardrobe worthy."
5 Different Ways To Style Your White T-Shirt
Now, on to the good stuff: The white T-shirt is the epitome of a basic. In this blog post, we'll look at five different ways to style the tee. Plus, as a bonus, you'll find white T-shirt product recommendations at the end. The reason this Indianapolis Personal Shopper loves white t-shirts is that they transcend seasons and dress code. Hopefully, these tips will give you some inspiration for showing that little white tee some love:
Indianapolis Personal Shopper's Tips For Picking The Best White T-Shirts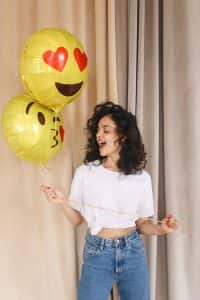 Not all white tees are created equal. Here are a few recommendations to help you pull off the looks mentioned above.
How Can I Get an Indianapolis Personal Shopper To Pick Out Clothes For Me?
Retail sales were down in 2020, for obvious reasons. People had nowhere to go, so they had no reason to shop. But now, malls are springing back to life and everyone is looking to update their wardrobes. If you want to update your wardrobe the right way, with confidence that you'll look great, contact me, Indianapolis Personal Shopper Beth Divine for a color consult and style analysis. We can go shopping together, or I can do the shopping for you! Either way, you'll love your look in a new style for 2021.
Keep it sassy, Indy.
Beth Divine, MA, AICI-CIC
Image Consultant and Personal Stylist & Indianapolis Personal Shopper