Even though it's probably not on your radar, men, you do have trends each year in fashion. And, like women's wear, the trend is to go bigger. Bigger silhouettes are in style across the board. Are they for everyone? Yes and no.
As with any trend, know it, consider it and apply it to you and your shape and lifestyle. If a trend comes that you think is not "you," let it go! That is what I do…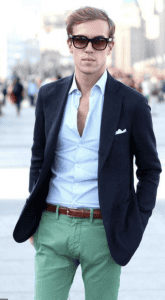 Case in point, I had a client a few years back who was a teacher who studied in Paris a couple of summers — anyway as often as he could because he loved the city so much! (Me, too, although I have a confession to make. I did a very American thing the last time I was in Paris and shopped at their Gap. This was long before any style training or awareness of how to be unique in my style. In my defense, the Paris Gap was not the same as ours, and I think that is what I found interesting. I think I bought a denim skirt.)
Anyway, back to my male client. He was convinced the more skinny leg looked good on him, and I had to agree that it did. But it was not skinny — it was really a straight leg. And this silhouette is really the most universally flattering pants shape in the world, hands down, for everyone. Anyway, for him, this shape created a lean, long look for him, even in Khaki pants which often tend to make everyone look heavier — I am referring to the wider leg, side slit pocket, bulky, square version — often seen in the Dockers brand.
Anyway, this gentleman's leaner jeans really flattered him and he built the other pieces in his wardrobe around them.
Anyway, with the larger, looser silhouettes, how do you wear them? What I think works is a layering outfit; instead of extremely wide tops or wide pants. Some fullness can work. With a close fitting knit shirt, wear a wider shirt or jacket with it. On the bottom wear the more slim, straight pants.
Or if the pants are fuller, guys, wear a close-fitting (not tight) shirt to add balance.
If the parts that you wear the fuller clothes are larger, select a dark color for that element of the outfit. For example, if you are bigger on top and are wearing bigger top, keep it dark, and select bottoms that are in a lighter color.
For instance, Ape to Gentleman's web site says, in this decade…"breezy silhouettes will continue to eclipse slim, form-fitting cuts. It's a resurgence of the styles popular in the 1980s and 1990s that has been on the up for some time now and while it may not be everyone's cup of tea, it can look great when executed well."
And how do we execute it well? As most image consultants would agree — it's tailoring and making sure pieces fit well–not too big or not too tight. Here is an example of a looser jacket to wear over shirts or sweaters. It's definitely relaxed — but it fits.
Relaxed is the word, and it can be flattering.
Keep it sassy, Indy.
Beth Divine, MA, AICI-CIC, Image Consultant