When flipping through a style magazine or watching the fashion runway, you may notice that some color combinations catch your eye due to being unique and beautiful but include pieces that never match. Somehow they magically work. You don't know why and you would prefer to combine outfits yourself versus looking at a look book or a Google search to figure out what to wear.
This strategy is known as contrast styling. Think red silk shirt with white jeans or a pale yellow sweater with navy trousers. As a Carmel Personal Stylist, I encourage you to try contrasting colors in a single outfit. It is a great way to help your closet go further and help you create new outfits without even leaving your home!
Carmel Personal Stylist Shows How To Make Colorful High-Contrast Outfits
It is rather freeing to know that you do not have to create outfits that match. The beauty of non-matching outfits is that you can take a more fluid approach to your clothing. For example, a certain sweater may have been purchased with a specific pair of pants that match, but utilizing the concepts in this post can help you find new ways to utilize the pieces in separate, new-to-you outfits with different items in your closet.
As a Carmel Personal Stylist, you'll want to use this strategy the next time you shop for clothing. You might have to think of different color choices for your next clothing purchase. This could open a whole new level to your personal style simply by putting different color combinations together in an artful but strategic way.
A Good High-Contrast Style Rule of Thumb
A simple way to make this happen is to pair light clothes with dark clothes. For example, if you are wearing dark jeans, wear a light-colored top, and if you are wearing a light-colored bottom, pair it with a dark-colored top. Easy peasy and it doesn't require too much thought in terms of color combinations. It is a great best practice to apply when in a time crunch or have a mental block on what to wear. This is also a good first step in the world of creating high-contrast outfits.
Refer To The Color Wheel
A second tip for creating outfits that buck the matchy-matchy styling is to wear colors opposite of each other on the color wheel. To apply this tip, let's take a crash course on the basics of colors.
The color wheel starts with three primary colors: red, blue, and yellow. They are primary because they cannot be created by combing other colors. Secondary colors are made by mixing primary colors, such as green, purple, and orange. On top of that, are dozens of other colors of varying hues but many offer distinct coloration.
So, why is this important?
Understanding how colors work and where they fit on the color wheel will help you create outfits that have a high contrast. Here are a few color combinations to get you started:
Purple and yellow
Red and green
Blue and orange
In addition, you can also combine colors beside each other on the color wheel to make a contrasting outfit. This could include:
Green and yellow
Purple and blue
Green and blue
Red and orange
Orange and yellow
Playing with color in this way can result in some incredibly bold styling, but knowledge is truly powerful when it comes to styling, and with color, it is more of a science than a knack for putting things together.
Still Stumped? A Carmel Personal Shopper Can Help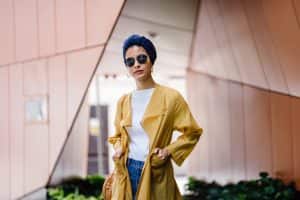 With this color information, you can begin to look at prints in terms of color to pair with other pieces rather than simply picking out a color from your favorite plaid print to find a matching cardigan. Now that you're in the 'color know,' let's see what creative outfits you put together! I would love to see how you apply these principles. Leave a photo of your new contrasting outfit in the comments. If you're still having trouble finding the right colors that look great on you, do a color analysis with your favorite Carmel Personal Shopper, Beth Divine. Finding the colors that look the best on you, is a good starting point to find the contrasting color to create the head-turning outfits you want!
Keep it sassy, Indy!
Beth Divine, MA, AICI-CIC
Image Consultant and Carmel Personal Shopper