Hello men of Indiana and beyond. Having been raised with men, I am the only girl with three older brothers, you probably know I was raised to be a hyper-feminine girl. And I was. I was not outside working on the farm. Oh no, I was inside learning the basics of Betty Crocker, sewing, reading, and enjoying my favorite rare past-time of shopping in the city. This did not happen often, but back then my school allowed me to be gone an entire day for my orthodontist appointment since it was about a 45- minute drive (and my mother did not drive).
We rode with my dad to work. Anyway, that day, Mom I started with a light breakfast, my appointment in the morning, and then the entire day of shopping or just enjoying the city. We always ate lunch at Mark's (Chinese food). Oh, how I loved it. I knew then country life was not for me. As my love of fashion grew, I learned that women aren't the only gender that values high fashion. Then my skill set expanded into Indianapolis Men's Styling. My male clients are always so appreciative of getting a woman's opinion.
Anyway, back to my discussion of men and what mistake to avoid. It's a simple thought, really, and that is don't wear a formal suit jacket as a blazer. A sport coat, aka "blazer," is not a suit jacket. It is a little less structured and even less fitted. You wear it with pants that "coordinate" with it but do not match. I can always tell when a man has taken a favorite suit jacket and paired it with something else. It's not a good look. You can tell right away that something is always a little off.
The Tip My Indianapolis Men's Styling Clients Swear By
About 6 years ago, when I started taking on Indianapolis Men's Styling clients, I found that clients were really hesitant to donate suits from their past. There may have been a sentimental attachment such as my father gave this to me or my mother bought this for me. And, if this "gift" was given several years ago, chances are it's not current. As we all know, even men's styles are updated, and that is happening even more so.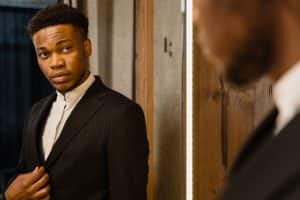 Often I hear "I don't need a suit jacket." It's not what I am talking about. This usually refers to wearing suits to work. But every man has those occasions when they do need to dress up or just bring his look up a notch. What do you do? What do you wear?
This is when a great-fitting sport coat is a God-send. My best advice for my Indianapolis Men's Styling clients is to make an investment in a quality garment. Many of my former and current clients have added a sport coat to their closet and thanked me later.
This one is a dark blue plaid sport coat. Beautifully made and it was purchased from Saks Fifth Avenue. The cut of it and fit was just as beautiful as the 100 percent light wool. And, have I mentioned, try to buy 100%wool. It's not hot because it breathes. And it does not wrinkle as much as a jacket with synthetics such as poly and rayon.
When this client picked up his jacket he loved it since it was tailored to fit him. This was not an easy find because this client was not tall and had a husky build. The navy paid coordinated beautifully with charcoal grey or even black pants as well as dark jeans. We also paired it with a lavender shirt and a colorful pocket square. So chic!
Can You Really Trust My Indianapolis Men's Styling Tips?
Well, if you read this blog, you most likely Googled "Indianapolis Men's Styling" and found my page. Congratulations – You're on your way to a new fashionable life! I recommend you subscribe to my blog for more men's styling tips. You can also check out my services page tailored just for men's services, and while you're there, you can read reviews from my actual male clients. I have the expertise and women's perspective to help you find the look you're trying to achieve. I can help take the stress out of shopping, or pinpoint that "wow" color on you. Contact me to get started!
Keep it sassy, Indy.
Beth Divine, MA, AICI-CIC, Image Consultant and Indianapolis Men's Styling expert