November is really when temps change in Indiana. Fall has sunny days, colorful falling leaves, and some crisp mornings. But by this time, it's really hat and coat weather here. As an Indiana Wardrobe Stylist, I think this is a great time to show off your style. In some ways, I think winter is a harder time to style clients basically because they don't always buy into the importance of the coat they wear.
To me, your Indiana Wardrobe Stylist, a winter coat is really an ultimate third layer for three reasons:
You wear them all the time
It's the first item people see when they meet you (outside)
It's an investment piece
Winter style advice from your Indiana Wardrobe Stylist
Before I was a stylist, I was like most people. I, your Indiana Wardrobe Stylist, never gave the exterior coat I wore a second thought. Fast forward to today, I do think about it more, or I make sure I have enough neutral coats to not have to worry about it.
With coats, as with most basics, it's great is have a couple of colors to work with, some of which should be neutral. For instance, I finally invested in a 100 percent wool coat in camel, one of my best neutrals (for a Spring). It's not really a show-stopper but it's made of quality materials and fits perfectly. I, your Indiana Wardrobe Stylist, bought it from M.M. LaFleur at Nordstrom. When I was shopping for this coat, I shopped first by material, and by the color second. Believe me, it's not that easy to find a 100 percent wool, cashmere, or camel hair coat these days. Here is something similar to my coat:
When I wear this coat, I often get many, many comments on it. And, I don't think it's flashy at all, but it is a great color for me. This coat has a little cashmere in it – 10 percent – and the rest virgin wool.  It is in a nice basic color. Note: if you really don't know the best colors to wear, reach out! Color analysis is one of my popular services, and is very eye-opening. I have also found that people who have trouble shopping and putting outfits together often don't know their best colors. When they are armed with this knowledge, getting dressed each day is much, much easier. As a Indiana Wardrobe Stylist, I am thinking about a coat that has some classic, fashionable quality about it.
Anyway, beyond the basic coat, everyone needs a utility coat – you walk the dog in it and wear it the below zero days or on winter days. Five years ago I asked for Canadian Goose parks for Christmas. I still wear it — it is so warm. But there are other quality brands that have a high amount of down or content that makes them warm. Some companies will post which coats are for the freezing temps, and comparing this information is a good way to make a good choice. In this coat, we are not really thinking so much about fashion — we are thinking about function. Although I did order a navy Canadian Goose instead of black because black is not a good color for me. I have another really warm coat I bought from Land's End in bright red. It is not as warm as the Goose, but I bought the vibrant color on purpose. In our neighborhood people sometimes run the light and I thought the bright red color could save my life someday!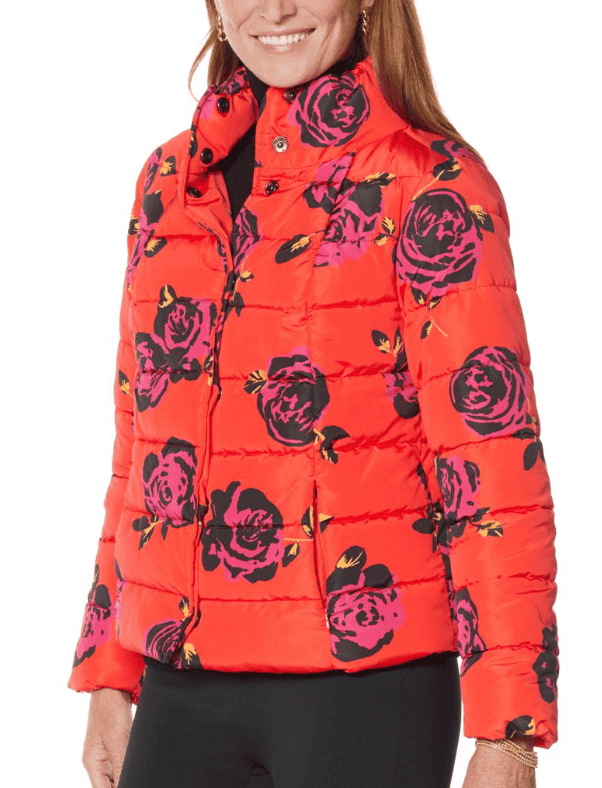 It is also fun to have a coat that's colorful and has a little fun. That coat in my closet is the red floral puffer that I purchased from HSN – G by Giuliana Cropped Puffer Jacket. It is very bright and fun — the flowers are actually purple. Again, it is a coat that really gets compliments.
Need help finding the right coat for your lifestyle and coloring? Reach out to me, I'd love to help.
Keep it sassy, Indy.
Beth Divine, MA, AICI-CIC
Indiana Wardrobe Stylist