As I look at this blank page I wonder: what can I, as an Indianapolis Fashion Stylist,  tell you about holiday outfits that you don't already think about? I just returned from Chicago and some Michigan Avenue shopping and found that the traditional colors of Christmas are not seen as often in years past. This is interesting to me. It makes me think back to my very first public relations job where I was the internal writer/editor, and one of my holiday tasks was to decorate some of the display windows for the holidays. As an Indianapolis Fashion Stylist, I loved the opportunity. I remember one year when I diverted to using royal blue and silver instead of the traditional red and green. The Christmas tree was white! It got rave reviews – probably because it was not the "usual" colors you'd see for the holidays.
Holiday Advice from Your Indianapolis Fashion Stylist
So that is my first tip to you, don't always think red and green for the holidays. Instead, consider dressing in metallics; such as gold, bronze, rose gold, and silver. You can also wear bright colors such as magenta and bright pink as accent colors or the main star of your outfit. Don't forget jewel, shiny tones such as royal, burgundy, hunter green and cherry red, and even black! As an Indianapolis Fashion Stylist, I love this display from Neiman Marcus in  Chicago because of the abundance of texture and unusual pairings with the houndstooth print.
Consider textures such as shine, (velvet is huge this year), lace, sheers, metallic, pearls, jewels, fur, fringe, and polka dots. For a simple outfit, add some over-the-top accessories in a clutch purse, pocket square, jewel drop earrings, sparkly Peter Pan Collars, fur cuffs, and so on. I am a huge fan of metallic shoes and bags, but don't match them. Also, don't underestimate the impact of a sheer black hose with lace or other additions. I have a pair of black sheer pantyhose with white pearls. As an Indianapolis Fashion Stylist, I love them. I wear them with burgundy kitten heels. I also have a beautiful pair of bright pink flats that dress up any somber dark winter outfit.
Your Turn Guys
Guys, a holiday party is a time to invest in a velvet jacket in a fun color. Wear it with jeans or black pants and a black or printed shirt. There are many out there. I, your Indianapolis Fashion Stylist,  loved this turquoise jacket from Nordstrom's Top Man shop. A hunter-green jacket is more dressy and easy to pair with a black turtleneck and dress pants or even black or grey jeans.
Indianapolis Fashion Stylist Advice for Your Work Party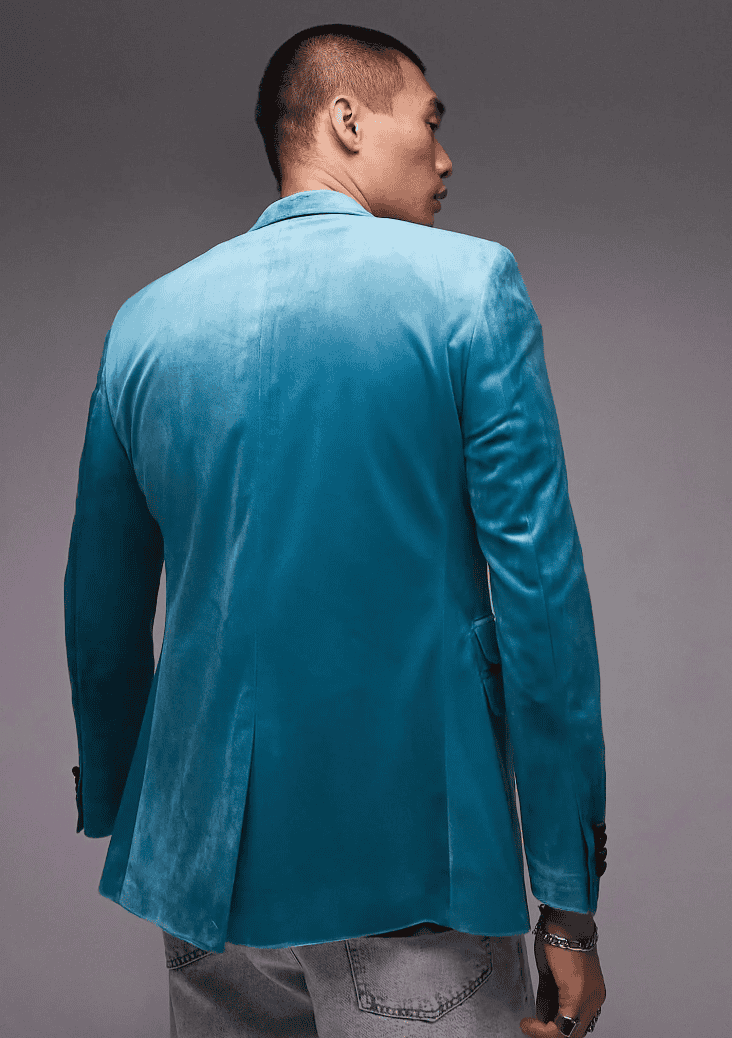 While there may be fewer of them, they can be a real hangup for people. As an Indianapolis Fashion Stylist, I always say, you're not there to be the sexpot or the most unusually dressed person. Think simple, classic, and elegant. Don't be afraid to ask for the dress code, even though it can be very vague and confusing, too.
Business casual, Ladies. I'd wear a simple dress in a jewel tone with some flash earrings and black boots and tights. Carry a metallic or fringe clutch. Or wear a pretty shiny blouse,  black dress pants, and dressy flats. Put your hair up with some bobby pins. If you're sure the majority of attendees will wear jeans – wear simple black jeans with a velour top and boots. Ditch the puffer and wear a dressy coat and some sparkly earrings and a bright scarf.
Men, For business casual, I still like a blazer in a dark color with dark jeans or chinos with a dress shirt and a pocket square with some bright color or metallic.  Wear dress shoes or boots such as the Chelsea or Baroque even with jeans in black. Ditch the puffer and wear a dress coat, adding a colorful scarf.
Keep it sassy this holiday season!
Beth Divine, MA, AICI-CIC
Indianapolis Fashion Stylist and Image Consultant