Lately, we've been talking about how Indianapolis Image Consulting doesn't stop at the clothes. How you present yourself at functions and how you interact with others are all part of your image too. So if you're not sure which fork is the salad fork and where you should put your napkin when you're eating, you might need an etiquette check, and I am here to help.
Does this table setting overwhelm you?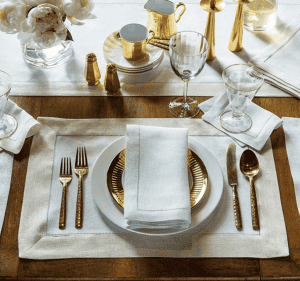 At work functions, I think attendees mistakenly think the dinner is the focus of the event, the food. But in actuality, it is not, it is the business that is being conducted. So, those at these events should not focus on enjoying the food as much as what is going on at a given time in the conversation. The best rule of thumb at work dinner events is to pick food that is easy to eat, not messy, and not likely to stick in the teeth. Drinking water or a drink frequently will lessen the amount of food that sticks to the mouth or teeth. It's okay not to finish a dish at a work meeting as well. Don't feel guilty about it in the least! Again, the food is not the focus, the business going on is.
Work Dinner Etiquette From An Indianapolis Image Consultant
Foods in a red sauce, thick beef sauce, spaghetti, or other drippy pasta, are probably not the best dishes to order if you have the choice of entree at a business dinner. Neither is a dish laden with garlic, onions, etc. I sometimes worry about the fragrance from a true Caesar salad, laden with Anchovy. Soup can be tricky to eat, so proceed with caution!
I have to laugh at myself who's done this at a small business meeting. I love iced or hot tea with lemon and sweetener (you know the ones in the pink, yellow or green/white small packets). Two risks here: squirty lemons and messy sweetener. I have showered people with lemon juice before!  Also, what do you do with the packets once they are emptied? Right, they make a mess! So there are you are sitting there enjoying your favorite drink, but you've made a small mess that could look like a line of something illicit.
Try to avoid getting a doggie bag at business functions. First, of all, you didn't pay for it. So don't worry about what happens to uneaten food. Second, it is just a strange thing to do. I have seen people take home whole bowls of food at an event. It smells, and also it makes me wonder what is in, or isn't in your refrigerator.
It goes without saying at a business function don't over-drink alcohol. Many of us have fond or not so fond memories of the people who drank too much at a work function and lost their filter. Words were uttered that were better left unsaid, right? It makes great cafeteria conversation though.
I also at times am guilty of creating crumbs around the breadbasket. I do love my bread. The way to avoid this is to break the bread and butter it over the bread plate and then eat it, instead of moving the bread over your dinner plate, etc.
At business — not family or personal gatherings that are a totally different ball game — avoid getting second on food or talking endlessly about how "great" something tastes. No one really cares, believe me. I know it's another possible conversation beyond the weather but avoid this trap. You don't want to look like the "big" eater or the obsessed foodie.
Do You Need An Etiquette Refresher?
Still feeling overwhelmed by the place setting? You're not alone. Etiquette is something that slips the mind now and again, and especially if you've got a sales staff that's meeting customers for dinner, maybe you need to make sure they're up to speed. I love to give talks to groups, offices, conferences, you name it! Contact me to have this Indianapolis Image Consultant a class in etiquette, so you can send your sales people out to dinner with confidence!
Keep it sassy, Indy!
Beth Divine, MA, AICI-CIC Indianapolis Image Consultant and Personal Stylist