I discussed this topic, "Does your outfit tell the same story?" nearly every day at my last 5-day training. It was a great topic and one that I felt I understood. Yet, it is so easy to go awry with this topic. What it means is do your accessories tell the same story as the clothing you are wearing. Really this means shoes and maybe purses.
Indiana Styling Consultant Explains How To Tell A Story With Your Outfit
This might be going over your head if you're not a trained Indiana Styling Consultant, but it means ff you are wearing a very formal basic dress, let's say a sleeveless sheath like this one blue one by Calvin Klein. I actually have this dress. What type of shoes would you wear with it? What type of jacket. I purposely cut off the shoes to play with this image: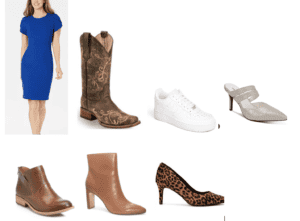 Going through our choices:
The white "trainer" sneaker is not telling the same story as a very formal dress. This is a "no."
The flat brown bootie is also too casual for this dress and also would make most women's calves look heavy and "cut off." (Later I will show you the dress you can wear with this bootie.)
The cowboy boots are a "no." Too casual for this dress. Although with the right dress, the booties would be lovely.
The heeled leather boot in camel could work with the dress. Although a narrow heel would be closer to the same story as the very formal dress.
The two pumps in animal print and oyster white would look great with this dress. They all tell the same story.
Now let's find an outfit that would look great with the booties and Cowboy boots. What kind of dress or outfit would that be? How would you tell the same story?
One easy way is to think casual. What clothes do you have that are casual that can match a casual boot? As an Indiana Styling Consultant, I would suggest that a more casual dress would go better with a chunky boot or even a sneaker.
This black simple T-shirt dress looks great with a sneaker or could go with a low-heeled bootie. A flat could work too that tends to be more casual. A Bohemian midi dress or even a shorter dress such as the floral below can look good with these type of shoes and booties. It also depends on your legs. Heavier legs look better in boots. If they are slimmer you can rock a sneaker or bootie with a heel or just a flat boot (I prefer a pointy toe). Here are some examples:
I used to own these rose-gold Kate Spade sneakers and often wore them with casual dresses. I would wear them with both of these dresses.
In general, really re-think wearing a low-heel bootie that covers the ankle with a skirt (unless it's a midi or even a maxi dress), even if it's a casual skirt or dress. Why? It cuts you off and makes your legs look so much heavier. It also makes you look shorter. As an Indiana Styling Consultant, this is the biggest mistake I see most women make. It looks even worse when you wear a low-heeled bootie with a very formal dress. It just looks off.
I know my ankles are not heavy, but my calves are very full. I have trouble finding high boots that fit over my calves. (Although you can find a slim selection out there or order online. Look for wide-calf boots) Always think about a pointy-toe flat or even a wedge to add some length and height via your shoes! The women who can wear this look are very young, very thin, or very tall with very slim legs. That excludes many women, doesn't it?
Keep it Sassy,
Beth Divine, MA, AICI-CIC
Owner, Beth Divine Style & Indiana Styling Consultant