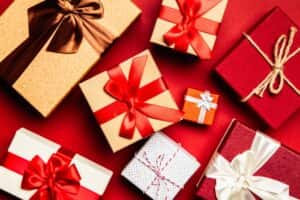 With the challenges of 2020 (a la COVID), your gift-giving budget may be a bit tighter this holiday season, but that doesn't mean you have to skimp on style.  Plus, sometimes the price tag isn't always the best indicator of a good gift. No matter your situation, spending fewer dollars doesn't mean the thoughtfulness of your generosity is any less. If you need a little shopping inspiration, you're in the right place. That's why the list below was put together. I wanted to give you a start and some ideas for your Christmas gift giving. I hope you enjoy these carefully culled and affordable gifts approved by your favorite Indiana Personal Shopper.
Indiana Personal Shopper's 2020 Gift Giving Guide
Time and Tru's Cowl Neck Sweater – with almost perfect reviews and a wide assortment of color options, this sweater is a wonderful gift option. It also has a flattering fit and works well with leggings as it covers the backside. At $16.95, you could even snag one for yourself!
Time and Tru Packable Puffer Jacket–give the gift of warmth with this versatile coat. Multiple colors available and is currently on sale for $19.95.
Let me just pause here and point out that you may be surprised to find that the Time and Tru line is actually from Walmart. It includes clothing, outerwear, shoes, and purses. As your trusted Indiana Personal Shopper, I would only recommend something if I thought it was worth it, and let's just say this retailer has really stepped up its fashion game!
Now you have a good jumpstart to wonderful wallet-friendly pieces for the ladies on your gift list. I would love to hear about any exciting finds you have discovered recently on your search for the perfect gift or if you gifted one of the above. Leave your recommendations and feedback below in the comments.
Give The Gift of Style This Year!
We all have at least one person on our list that just has everything. These hard-to-buy-for friends and family could always use a gift that is an experience, and a confidence booster! A gift certificate from your favorite Indiana Personal Shopper Beth Divine is an easy purchase that comes with a "one size fits all" tag! A gift certificate for my services is perfect for the recent college grad looking to mature their style for the workforce, the mother-of-the-bride that's having a hard time finding the perfect dress, or the on-the-go salesman that doesn't have time to update their style. Contact me to learn more!
Darlene for Beth Divine Style
Keep it sassy, Indy!
Beth Divine, MA, AICI-CIC
Image consultant, Personal Stylist, & Indiana Personal Shopper