Since COVID we have all sought out our comfort pieces. For me, it's sweaters and cropped jeans. For my husband, it's a quilted vest, jeans, and comfortable, brushed cotton, patterned shirt, complete with more high-end sneakers. As a Carmel Wardrobe Stylist, I recently read an article in a men's publication about the hoodie and just how versatile it really is. I had to agree, so I am focusing on this popular piece in this blog.
Carmel Wardrobe Stylist Tips For Looking Great in Hoodies
I am not endorsing the typical black hoodie, often seen in tech companies by various higher-ups. I am picking a hoodie based on typical Carmel Wardrobe Stylist views. Color, texture, fit, and even shine are all part of my criteria. Hoodies can still show off some serious style, as long as they fit you right.
Tip no. 1: Your hoodie is should be soft and made of comfy material
They don't need to be the most expensive member on the block, either. Case in point, last Saturday, I shopped with a new client who's young, 27, a stay-at-mom, and plus size. I was pleased with the hoodie I found at Macy's in three colors, two of which were great on her: bright blue and purple (she was warm—green eyes and reddish hair). She loved the way they felt!  
Tip no. 2: The hoodie should fit – not be loose – and stretch around your curves
Next, I loved the way the hoodie fit her. It was snug but not tight and covered the areas she wanted to cover without being dowdy. Baggie hoddies are fine for quarantined days, but be sure to find one that fits you well for the occasional trip outside.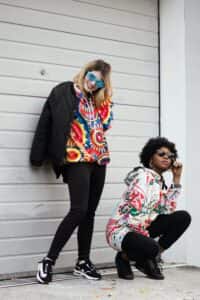 Tip no 3: I do recommend a muted color such as grey, olive, black or slate blue
For guys who have a more classic style,  This piece should fit you nicely and be made of good quality material such as 100 percent cotton, wool, acrylic, or even cashmere. Look for labels such as Ralph Lauren, Boss, Theory, or other brands.
Tip no 4: Avoid the bulky, ill-fitting hoodies of our high school years
I also like hoodies with a front zipper, as long as you cut down on the bulk.  The hoodies I am talking about are really well-made and fashioned to elevate your outfits! Find something that fits you well in a color you love, and doesn't add extra lumps when you sit down.
Hoodies Can Be More Than 1 Solid Color
If you are a creative, fun-loving personality, reach for a patterned hoodie. I have seen some beautiful dusty floral hoodies and even some vibrant, unusual prints. As a Carmel Wardrobe Stylist, I recommend making the hoodie your statement piece and pair it with more muted basics such as jeans or pants, or even blazers. Keep an eye out for hoodies with unique features. Some have zip-in-hood dickies.
How To Look Good In A Hoodie
Once you have your perfect hoodie, how do you wear it? Your Carmel Wardrobe Stylist for Men and Women has the answer. Think of other basics such as a jean jacket (patterned, colored or basic white, black, blue, or tie-dyed) on the top. Make sure it all fits you well. My client from last Saturday picked a great fitting Levi's denim jacket. It wasn't a true blue which made it a little more interesting. I advised her to wear it with black pants or jeans, white jeans or grey. Be careful mixing very similar shades of blue.
Men, consider wearing your dressy hoodie under sports jackets with sneakers. If your hoodie is a medium grey, pair it with many basics such as camel, navy, black, or olive. (it's surprising how chic grey and camel can be).  Wear your typical jeans such as black, navy, grey, or even camo or olive pants. Also, a quilted vest can be a great look, as well as warm. Especially over a hoodie like a  military jacket or even a casual Bomber jacket.
Keep it sassy, Indiana.
Beth Divine, MA, AICI-CIC & Carmel Wardrobe Stylist