Yes, we're in a pandemic, but we all need a little glam and sparkle in our lives, do we not? As an Indiana Styling Consultant, I am curious about how you dress for the holidays. Perhaps you're a little laid back and like to dress up in family PJs. I swear when I receive these Christmas cards of the entire family—from dad to little tikes—dressed in a buffalo red/black plaid I have to chuckle. I wouldn't be caught dead in this. But to each their own, and if that is your thing, go for it!
Indiana Styling Consultants Best Ways To Add Glam To Your Holidays
I have always been partial to velvet for the holidays. With so many colors to choose from!  Black, jewel tones of red, green, royal blue, and purple. Velvet is so pretty in a dress, top or even pants. I think this red-bow dress from Draper James is so lovely. Oh, it just lights up a room. Pair it with gold, silver, or even precious stones to make it even more spectacular!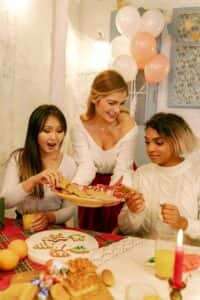 I also like plaid at the holidays, and recently purchased these pants, also from Draper James.  – I plan on wearing them with a red velvet top or a gold sweater just for something different.
If you are not into the more traditional plaid and velvet of the holidays, try a little sparkle and a pretty, sexy dress. This little slip dress from Kohl's a small investment to pay to shine on the holidays – add some color jewelry to make it even better – too bare? Wear a jacket or sequin sweater over it. Glam is not limited to the smaller sizes. I love this close-fitting dress in plus size. Remember, clothes that fit are always more flattering than too-big clothes!
Try a festive jumpsuit this year. I've seen so many in velvet that I just love.  You don't have to wear the traditional red and green during the holidays to glam it up.  Wear black, white, or blue and your colorful Christmas accessories will shine even brighter! I would suggest wearing red and green jewelry or a fun bag. Sometimes the pretty texture of the fabric is what makes an outfit stand out.
This beautiful jade green jumpsuit, also at Modcloth.com, is a real stunner. Believe it or not, it is just thin people that can pull off jumpsuits. Yes, thin people have clothing issues as well. What would that be? Thin people need to fill out their clothing. Otherwise, they always look a little off.
Men Can Get In On The Fun Too!
Guys, you can get into the spirit, too. Of course, you can't go wrong with the traditional green or red sweater. They are fun and festive. Of course, holiday ties and pocket squares can be fun as well. And, ties and pocket squares can be for ladies, too, not just the guys.
Try a fun smoking jacket you'd wear during this time of year – vintage would make it even better. Again, I love velvet this time of year and this men's velvet smoking jacket on shopstyle.com is a beauty. I'd wear them with black pants that are more narrow and black loafers or dressy oxfords. So sophisticated. Here's another beauty in more of a brocade. You'll shine brighter than the Christmas tree!
Dress up – even if it's just at your house or with your pod! Make this season Merry & Bright!
Give the Gift Of Style This Christmas
During a pandemic, shopping at malls and stores for Christmas isn't really possible. Many people are buying their presents for loved ones online to avoid crowds and germs. For the ultimate contact-free gift this year give the gift of fashion by purchasing a gift certificate! Working with an Indiana Styling Consultant can give the gift of confidence and style. Contact me if you want to learn more!
Keep it sassy,
Beth Divine, MA, AICI-CIC – Indiana Styling Consultant
Bethdivinestyle.com