It has been a while since I thought about what I would wear to meet the "family." I first met my husband's family about 23 years ago. It was at Easter, and we drive 6 hours to their house and then stayed in the house for the weekend. That was stressful to me. I knew we'd be going to church, so I wore a conservative dress and the rest of the time, just a nice sweater and jeans. I wasn't aware of, really, or doing personal styling then. So what I wore was fine. I do recall bringing Michael's mother a special Easter Lily. She loved it, and that gift probably overshadowed any wardrobe mishap I did at the time.
I recently shopped with a Virtual Styling client (who lives out West in a warm-weather state) who wanted to pick out a special outfit for her boyfriend's mother's birthday party. I pondered this a bit while we were out shopping and asked my client: what is his mother like? She said that she's traveled extensively and seems to be quite sophisticated. My client's worst fear was to be "underdressed." But, she didn't want to be so dressed up that she put the entire spotlight on her!
Making a Fashionable First Impression During the Holidays (or Any Family Occasion)
So here are some tips for making a good first impression with your outfit:
When you are meeting family for the first time or at a big family function, be true to yourself. This is when it's important for you to know your style! Then add something to make it interesting in your accessories, hairstyle, coat, etc.
Dress comfortably and practically. Don't wear 4-inch heels to a backyard barbecue! However, it's okay to wear a shoe with a heel, if appropriate for the occasion and location. If you think many people will dress casually, wear jeans but make them different.  White jeans, embroidered jeans, colored jeans, cropped jeans with interesting hemlines will bring interest to a basic outfit.
Put the spotlight on your best features. If you want to downplay some part of your build put the focus elsewhere. For instance, I tend to be larger on the bottom. So, for the most part, I put super fun, colorful, detailed, and interesting clothes on my top. I am known for having beautiful blouses! I have so many, and I love them all.
Don't be afraid to wear a casual dress to a party. Add some cool jewelry, some fun boots, and a belt.
You can never go wrong by wearing a black knit dress. Make it less formal with some booties and a Kimono in a fun print, or a denim jacket.
Don't be that person who shows up in leisure-wear. You will look like you just worked out, got dressed, and showed up.
Specifically Holiday Party Dressing Tips From a Virtual Styling Expert
Let's talk Holiday Parties. After almost 2 years of being cautious, people are now excited to throw parties again! You might find yourself invited to a few this year. At holiday parties (especially work ones) you might find yourself meeting that guy from accounting you've never seen. Who knows, maybe the CEO will make an appearance. Here are some of my Holiday Party outfit tips:
Know that if you wear bright red, you are automatically called attention to yourself. Solid red is more powerful than a print such as a fun, approachable polka dot.
If the party is more formal, you can't go wrong wearing a dress or slacks and a blouse in colorful colors and cuts.
Try wearing velvet pieces at the holidays or pretty plaids.
Remember to wear something in which you will shine and be comfortable.
First Impression Outfit Choices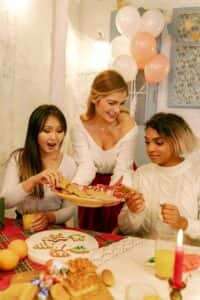 These pieces are really great for the fall and winter, not necessarily a holiday party. These are some things I recommended to my Virtual Styling client and think they're good choices for any nice event.
We're seeing a lot of bohemian-style dresses lately that are great for the fall because they have long sleeves. This Adrianna Mini Dress by Allison Joy is super cute. I love it paired with the riding boots, but it could also be cute with booties.
This Slouchy Dolman Sweater at Loft is a great neutral color that you can pair with a colorful skirt, leggings or some unique jeans that I was talking about earlier. Dress it up for a party, or keep it casual. Add some gold accessories for some standout sparkle.
Men, I didn't forget about you. There's a lot of pressure when meeting your partner's father for the first time. A Sportcoat will show you mean business. Check out this Peter Millar Classic Windowpane Sport Coat at Nordstrom. This would be great for a holiday party! Most everyone at work party will probably stick with a black or blue suit with a red tie. Stand out from the pack while keeping it professional in a distinctive pattern with a bold color.
Make a Virtual Styling Appointment with Beth Divine For Your Holiday Party Season
Have I mentioned I offer Virtual Styling to those near and far? Think of it like Stitch Fix, except instead of filling out a form and being surprised about what you get, you talk to me and I actually listen to what you want. Once I get a better idea of your style and occasion I'll work with you one-on-one to find the perfect outfit for you. Frustrated with shopping lately? This is a great solution to find a quality outfit without the hassle of trying on hundreds of outfits. Take my style quiz to get started, and then contact me to learn more!
Keep it sassy, Indy.
Beth Divine, MA, AICI-CIC,
Image Consultant & Virtual Styling Consultant