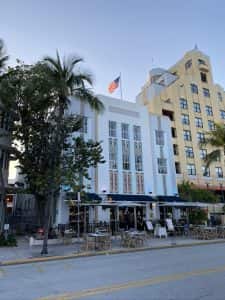 Hello everyone! It is good to write this blog as I am starting to resume my more busy, active life as normal. While my husband and I did enjoy some quiet, restful time during the pandemic, we are glad to resume our schedules and live life as only we live it! We're traveling again! We enjoyed a perfectly wonderful trip to Miami Beach, FL, in April. The water was amazing, and I was quite impressed with the clean beach and nice restaurants nearby to dine outside. Masks were still required inside in the city of Miami. I was disappointed the Art Deco history walk and museum were not open, but we will enjoy those activities another time. I love visiting Miami's Art Deco neighborhood, it's a must-visit.
Of course, being your Indianapolis Personal Stylist and image consultant, just being about the town during the day and evening was a feast for my people and style watching. What did I see? Anything and everything! While I tried to dress for Miami Beach, I was not at the level the natives were. I needed a few more "evening out" dresses, but I took note and will even more prepared to help clients dress to the "nines."
Indianapolis Personal Stylist Shares Vacation Style Stories
I always really think through locations when I help clients shop for get-aways. A beach vacation in a very warm climate is a unique project. For starters, one has to dress for the weather: humidity, sunshine, wind, rain, activities, and going out. We had all of those and more. Fortunately, I brought several of my cotton Lilly Pulitzer dresses that always make the grade. They are often in a bright, happy print, and mini dresses are strapless and cool. I also wore a cute romper and took a cotton one-arm top that I paired with some Tommy Bahama cotton shorts in navy and my straw Fedora.
I took three swimsuits and wore every one of them. One was from Lilly; one a boutique purchase in a black and white polka dot; and the third a two-piece suit in jade green.
As an Indianapolis Personal Stylist, I also suggest that ladies really raise the bar on their swimsuit coverup. The right one can double as a top, dress, or even a skirt. There are so many options out there to buy! Maybe buy a printed one and a solid one? I was thrilled to find a store that only sold handmade white clothing. There I bought a white cover-up in gauze (yes, it's everywhere), and a cute white sundress I have already worn several times.
Vacation Styles For Men From an Indianapolis Personal Stylist
For guys, in beach communities, don't be afraid to wear shorts. I sometimes hear from some of my clients that they don't like the way they look in shorts. I always say, well, you haven't found the right pair! There are many more options out there now for men beyond the standard cargo shorts or the pleated khaki shorts, etc. I also love the abundance of patterned cotton, short-sleeve shirts available so many patterns to love there is something for all! I tend to pick the lighter color shirts with white backgrounds for guys who are a more cool-season such as winter or summer; for guys with more warm coloring, I choose more dark backgrounds or warm color shirts such as coral, orange-red or brown prints. Their shorts can be whatever coordinates such as rust or tan; slate blue, navy, white; denim, pink or even black. There are fun features such as elastic and drawstring waists (I am seeing more of these post-COVID) to try. There are shorter and longer lengths. Here is Michael on our vacation; the shirt is from Nordstorm.
Guys, if you absolutely refuse to wear shorts, consider finding some lighter cotton or linen pants to wear. They will be much cooler than wearing jeans around the beach town. Also, I am not opposed to finding a really cool swim short that you can also wear off the beach with a sharp polo from Lauren or Brooks Brothers.
Vacation Style Help From Indianapolis Personal Stylist
Getting ready for a getaway? If you're headed to a sunny destination and can't find a thing to wear, contact me! I can help you find the perfect clothes for the beach that fit your style. Check out my services. We usually start with a color analysis so you can find the perfect bathing suit for the beach or the perfect dress for a night on the town. Contact me to learn more!
Enjoy your vacation, everyone! And…keep it sassy!
Beth Divine, MA, AICI-CIC, Indianapolis Personal Stylist