Hello Fashionistas! Your Indiana Wardrobe Stylist just returned from a whirlwind trip – first to Dubai (in the United Arab Emirates) and then to London. What a trip it was! We had the time of our lives, and it was the longest trip my husband and I had ever taken. You might ask me, why these two locations?
The truth is we planned a trip to Dubai two years ago and thought about taking a nearby trip to other regions such as Egypt or Turkey. But COVID played with our plans. At first, we were unable to go to that region, and then it just seemed too hard with all the testing requirements for the pandemic. Finally, two years after we actually purchased the trip we were finally able to take it!
We had ruled out Turkey and Egypt a couple of months before. We decided to pick London, on the advice of our travel agent, for the second part of the trip. We had a wonderful time. But, oh the headaches of packing for two relatively different climates and regions (and cultures) were vexing for your Indiana Wardrobe Stylist.
Your Indiana Wardrobe Stylist's Dubai Essentials
First I focused on Dubai. What I learned is that Dubai is basically a new, trendy city (first build in 1960) in a desert! It's very hot there really all the time. I expected temperatures in the 90s and maybe even over that. That's exactly what we experienced, but my husband and I were prepared.
Armed with our strong sunblocks and straw hats we ventured out every day we were there (5 days). I wore some wide-leg spicy brown pants and a navy shirt (Madewell) made of 100 percent cotton. They were perfect, cool, and breathable fabric. We wore our sunglasses every day, all day. I bought a last-minute purchase – a Longchamp cream-colored crossbody which was fantastic. It was the perfect size for my phone, passport, vaccination papers, and other necessities. It was worth every cent!
Here we are in the desert which was another amazing excursion. I didn't know I would love that so much! Above is a snapshot. Michael's shirt is just a cotton polo from Old Navy that was wonderful, and his Khaki pants are from J-Crew.
I also brought along some cotton dresses I loved wearing in Dubai. I love dresses from many places, especially Boden, Anthropology, JCrew, and The Loft. I also got a special vibrant print dress from Lilly Pulitizer (their prints are amazing). I bought very little jewelry (I wore my diamond necklace the whole time) – but did bring a couple of colorful leather earrings which I wouldn't feel bad losing along the way. But I brought back all of the pieces I had packed!
London Essentials from your Indiana Wardrobe Stylist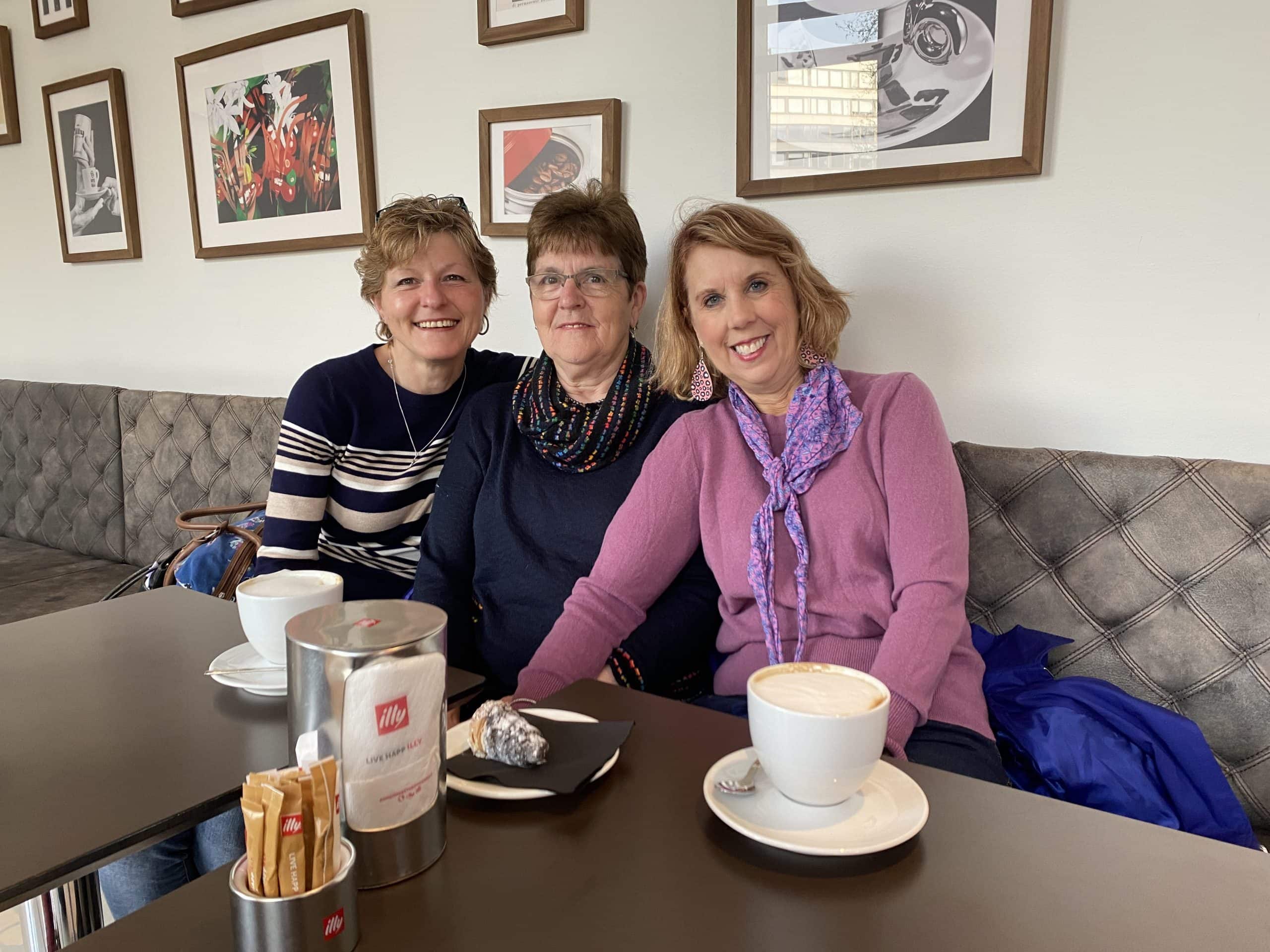 In London, we were really fortunate – it was sunny every day, and temps ranged from the low 50s up to 65! I brought a new cashmere sweater in a soft lilac (JCrew), straight-leg jeans, and a new blue trench coat I didn't even need. It had a hood which would have been fabulous if we had had rain there. Yet I love the look of one. They are so neat and flattering. I also took many scarves and a blue wool suit that was perfect for those few times I wanted to dress up but not in a highly feminine way. In the one photo, I am meeting up with my Welsh cousins from Newton. Mid Wales is where my grandfather was born.
Other travel aids we used on this trip were plastic bag organizers, which were amazing. Support knee socks were a must as we used them during travel. All of our flights were a minimum of 7 hours, and our last one was 8 hours. We also packed the clothes in airbags. That way somehow I had enough to wear. For the most part, I packed accurately for our experiences.
Shoes were practical (not my preference), but we walked a minimum of 8-10 miles a day. I did bring some white loafers (Coach), my running shoes, and one pair of heels I wore on Easter Sunday with my Lilly dress (I wore comfortable shoes and put the heels on right before going to St. Paul's Cathedral. I have always wanted to really experience this national treasure since Princess Diana married Charles there all those years ago. We were lucky to hear the choir on Easter and the beautiful bells.
Keep it sassy, Indy.
Beth Divine, MA, AICI-CIC
Personal Stylist and Indiana Wardrobe Stylist