Songs have been written about them…careers have been made by them – jeans are a classic wardrobe piece nearly all of us have and love wearing. Ladies love to talk about their favorite jeans and often take sides between skinny versus Mom jeans. I recently a client shopping for jeans because she said she would never – I said never – wear Mom jeans, aka the higher waist, wider leg jeans version. And she needed some new jeans…
Carmel Wardrobe Stylist Jean Suggestions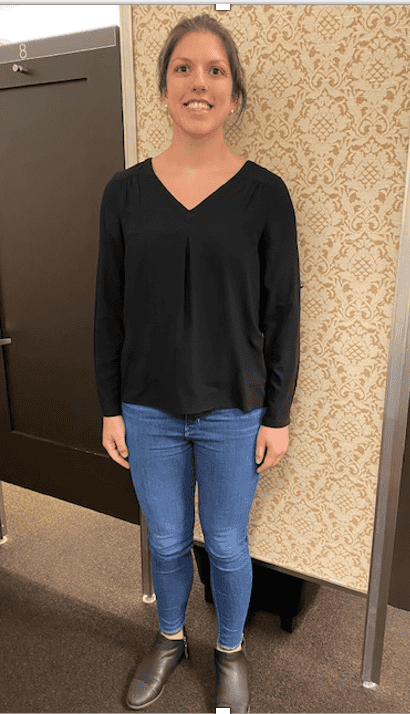 Jan is in her early 30s and is very fit – she runs, lifts weights, and basically has a slim, svelte, and somewhat curvy shape. She is fortunate enough to wear jeans to work each day – the smooth, not distressed version. All of her outfits revolve around jeans – oh – the skinny kind. I welcomed the challenge of finding jeans in a cut she had never even tried on. Jeans that would absolutely be her absolute favorite. love.
So here is the back story – before I shop with a client, nearly always, I have done a color analysis. I know colors make them look alive, fresh, and energized, and stay away from colors that are not flattering. That is a given.
I also know someone's general figure type and what cuts work better. For instance, even though they were all the rage, not everyone can really rock skinny jeans. They can make you look heavier, shorter, etc. Jan did look good in skinny jeans; although I had a hunch she looks even better in high-waist, wide-leg jeans.
Client Style with Your Carmel Wardrobe Stylist
Her shape is a curvy rectangle — she does not have very much waist definition and is somewhat tall at 5'8. I also measured her rise and whether she's balanced — she has longer legs and a somewhat shorter torso. That tells me not all high rises will work for her. Also being curvier some flare legs will throw them off balance and make her look bottom-heavy. I also knew that Jan should buy jeans as snugly as possible due to the level of stretch in most jeans. I am not a fan of heavy jeans without stretch although they are certainly in the stores.
So we began trying on jeans…We found some very nice jeans by Mother, several in fact, although we were most happy with the fit and style of the Vintage Straight by Madewell. The higher waist and the straight-to-wider leg gave Jan's waist definition. Also, a fitted top in a Wow color of hunter green really topped off the look, as did this olive cropped jacket and T. Jan is looking for her platform sneakers or a brown suede mule with a slight heel.
Oh, and…Jan is now a believer – high-waisted, Mom jeans are great. She is going to buy a couple more pairs to round out her work wardrobe. I did advise her…with this cut, you need shorter, more fitted tops. And I encouraged her to find more third layers for her jeans and blouse ensembles. It makes her look more put together and polished. Her style is sporty and natural so it took some effort to convince her to add the third piece…but to me, a third piece and some accessories make an outfit.
Doesn't she look great?
Let Your Carmel Wardrobe Stylist Help You Look Your Best! Need help buying the perfect jeans? Your Carmel Wardrobe Stylist can help you love your jeans and the way you look in them, I help people shop and find clothes they love. Why don't join the list of people who rely on Beth Divine Style to help them find the perfect outfits for their life? Please reach out via the website or text at 317-416-2782.
Keep it sassy, Indy.
Beth Divine, MA, AICI-CIC
Carmel Wardrobe Stylist
Before in skinny jeans; far right the new jeans!