Most of my clients are between the ages of 45 and 65. You might say they are "of a certain age." This is a fantastic time of life for many reasons, not the least being you understand yourself better than you did in your youth. Therefore, it is the prime time for dressing for yourself, dressing in a way that expresses who you are and the things that are important to you. As an Indiana Wardrobe Stylist, I am here to tell you that it is not a time to start dressing old. Heaven forbid! May we never do that.
Indiana Wardrobe Stylist Advice on Looking Younger
I remember my grandmom's style. She always looked stylish, but there was something about her style that was also "old."  The funny thing is the things she wore are things I wear now: blouses, trousers, and sensible heels. Ooops! Am I aging myself? In some ways, yes. As an Indiana Wardrobe Stylist, I dress differently than I did in my 20s and 30s. My style has evolved, and I'm not 35 anymore. However, my style does not look old because the cuts and fabrics I wear are modern, which was not available to my grandmom at the time. Back then, you had your "old lady" brands and stores, and there was no blending of ages in fashion as there is today.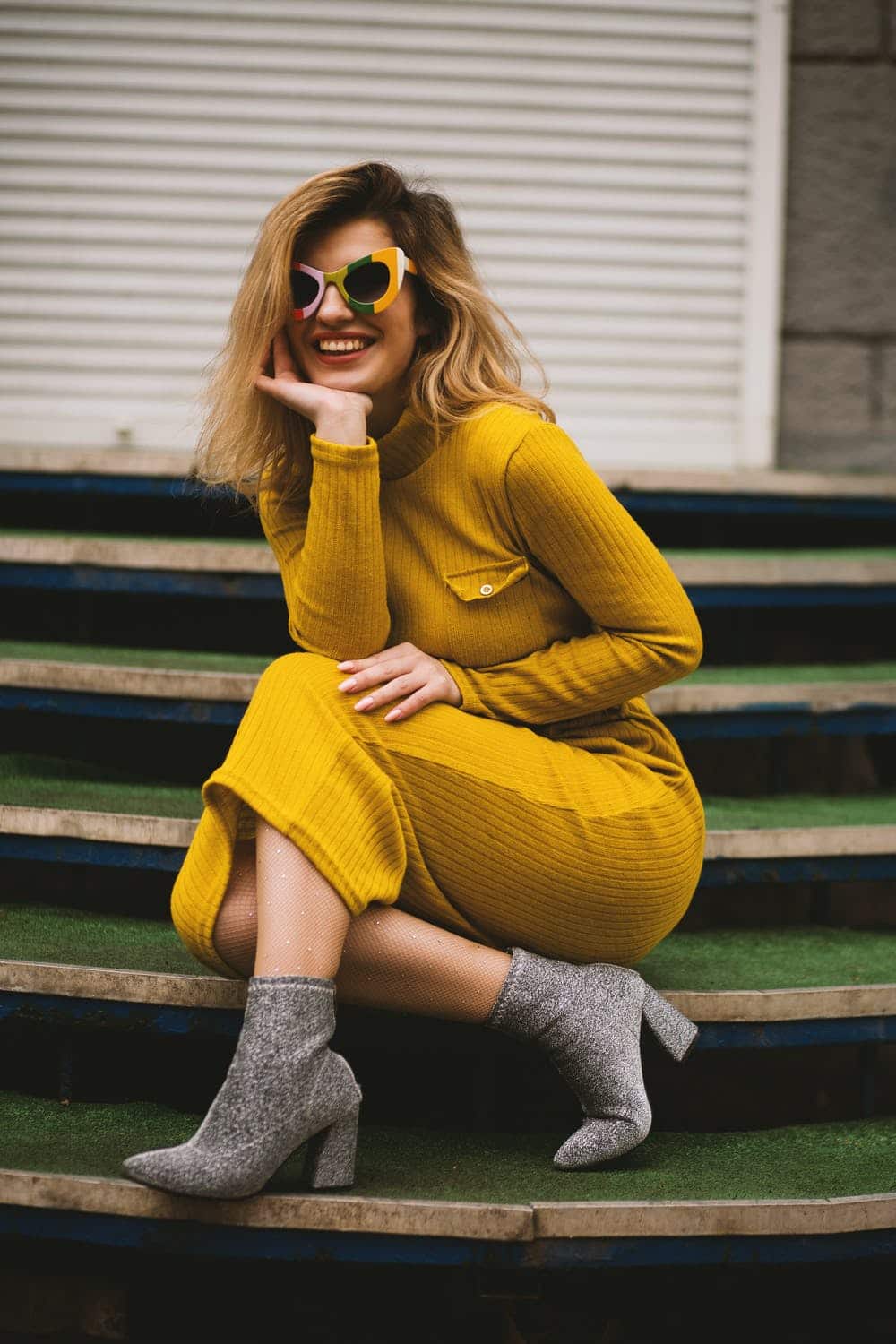 What ages a person varies by person. Although I, your Indiana Wardrobe Stylist, am giving you a list of top offenders, I know people who look fantastic in these items. They are not aging themselves. Please don't skim this list, take it as gospel and trash all offenders in your closet. On the contrary, this list is food for thought. I hope it encourages you to take stock and, if needed, move in a slightly different direction to keep your style modern and fresh. Because at the end of the day, that's what we want, to look like the best version of ourselves, happy and confident.
Oversized clothing. Clothes that are much larger than your own frame add weight and years. 20-somethings can rock an oversized tracksuit. Oversized clothing over 40 sends a different message. In some cases, it says you don't want to be seen (but you are), and in other cases, it says you've given up. As Karl Lagerfeld once said: "Sweatpants are a sign of defeat. You lost control of your life, so you bought some sweatpants."
I know oversized clothes are everywhere, and they're comfortable. However, there is a happy medium. The solution: For comfort clothing like joggers and sweats, wear your typical size in "normal" clothing. Body skimming styles are ideal. If you own oversized pieces (I do!), keep your body balanced by wearing something more fitted on one-half of your body. Avoid oversized clothing all over.
Bermuda shorts. These are shorts that stop just above your knee. The main reason these are problematic is they cut your leg in half, causing you to look shorter and disproportionate.
The solution: Luckily, several retailers offer shorts where you can choose your perfect length. As an Indiana Wardrobe Stylist, Boden is my current favorite. I prefer 6" shorts that hit me mid-thigh. The right length varies according to your height and leg length. Shorts that hit a few inches above your knee is typically perfect. Eventually, you might decide shorts aren't for you. In that case, opt for ankle-length cotton pants or breezy dresses that end just below the knee where most of us are narrow.
Do you have more questions about keeping your style young? Contact Beth Divine to learn more!
Keep it sassy, Indy!
Beth Divine, MA, AICI-CIC
Personal Image Consultant and Indiana Wardrobe Stylist