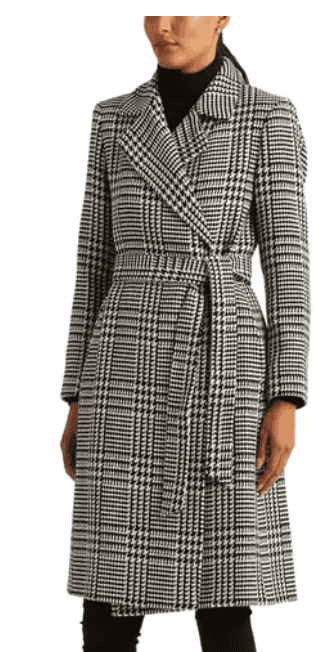 Especially during the last two years during the pandemic, we've gotten much more private, isolated and practical. I know some past clients told me they just threw out many of the clothes they weren't wearing because they didn't think they'd ever return to the office. They just didn't feel they needed the mounds of formal dress clothes. As a Carmel Wardrobe Stylist, I certainly agree with them…There has been a huge shift in the way we live, the way we see the world, and most likely the way we will live out our lives in the future.
Your Carmel Wardrobe Stylist's Favorite Coats
But, on the other side of the coin, and remembering what I know about human nature — we will continue to celebrate good times, make the effort to feel and look good.
So believe me when I say we are ready to get dressed up again–albeit in a different way for some.
That is why I still believe in investing in a warm, beautiful winter coat. And it's not too late to buy one — probably on sale.
Last year I bought a beautiful burgundy wool Ralph Lauren winter coat. The quality was undeniable, and the fit supreme. I love to reach for it when the temps are really low, but I am dressed up and want to put the icing on the cake.
That is what I think about winter coats. They upgrade and embellish whatever is underneath. On the other hand, a tired, casual coat can really downgrade whatever snazzy outfit that is underneath.
That's why owning one warm, stylish winter coat is essential.
Here are Some of Your Carmel Wardrobe Stylist's favorites:
Here are some tips:
First, really know your best colors. You'll be making an investment here, and you don't want to buy a color that makes you look horrible. I can provide a color analysis for that!
Spend as much as you can for this item…probably $400 and up.
Look for outstanding coats — on sale: online, in the store, etc.
Don't buy a coat too small or too big. You want to wear this for years to come.
Buy a coat with a high percentage or even 100 percent of pure fibers such as wool or camel hair. If 100 percent is hard to find, and it sometimes is, don't settle for less than 75-60 percent.
I recommend you buy a knee-length or longer coat. They are warmer and somewhat more dressy.
If you need a neutral, camel, navy or grey are all good options. Light blue and nude pink are also somewhat neutral. (If you have pets that shed, I would not buy a black coat. You don't want to showcase the pet hair!)
If you want a color, go for it. I have had a red wool coat and actually wore it out. I loved it. Here in the dreary Midwest, that pop of color was cheerful and made a nice statement.
Plaid is still in and can be a nice statement coat. I love a plaid coat.
Make sure the coat fits you. If the arms are too long, go to a tailor.
Don't forget to take the stitching out of the back vent before you wear it or the "100 percent wool" label on the sleeve.
Reach out to me for help. I am a winter coat specialist!
Keep it sassy, Indy.
Beth Divine, MA, AICI-CIC, Personal Image Consultant & Carmel Wardrobe Stylist