It's really interesting how much opinions about what to wear to work have changed, from the individual worker to the corporation. It seems companies still have dress codes, but they have certainly evolved. Many now just say wear what you want, just so it's not offensive, dirty, or mind-boggling. It's funny and ironic to me as a Carmel Personal Stylist who teaches people that how you dress communicates your image and who you are. If you look as though you just mowed the lawn and walked through a cow barn, that is probably not what you want to show to others, especially at work.
But, reality shows me something different. You can't really blame it all on COVID-19 and working from home. Long before the pandemic, work dress was changing. Many men no longer wore a suit and tie, and those who did were transitioning to a sport coat or just a shirt and some third layer. Jeans were acceptable as were casual shoes. Travel clothes ranged from sweatpants or dressy jogger pants with drawstrings. So if you're heading back to work gents, and you're wondering what to wear to the office, I've got the inspiration and tips for looking good while keeping it casual.
Carmel Personal Stylist's Tips For Men Heading Back To The Office
While I can't give you away all my secrets, I can tell you I don't necessarily shun all more formal workwear. I still believe every man needs either a perfectly fitted suit or sport coat. You will use these, maybe not every day, but there are still times when dressing up will help you show your best self. Case in point: over the summer I worked with a gentleman in his early 50s who found himself single and ready to embark on the dating world, a place he was not familiar with being married several years. His closet was full of sporting clothes from Eddie Bauer, hunting Carhart's, and gym wear. He owned his own company often wore jeans, a shirt, and some type of half-zip, sporty pullover.
For him, and really all men, I recommend some good-fitting dress jeans. This piece is essential to your wardrobe and can be dressed up or down. The key to finding the right jeans is figuring out the best shape. As a Carmel Personal Stylist, I am trained to do this. Fit and shape are key to fashion. Without it, the look is not flattering.
Mastering A Layered Professional Look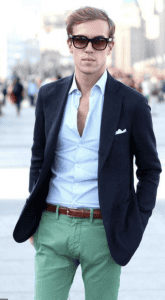 I am also a huge fan of the rule of three: a third layer is essential to look polished. I am referring to wearing pants, some type of top, button-down, henley, or even zip sweater, and topped by a third layer. The third layer should be a bit more casual if pairing them with dress jeans. The client I worked with over the summer had very few third-layer pieces. So, we bought a beautiful blue-plaid sport coat that fit him perfectly, a black bomber jacket and eventually a black leather jacket.
A few weeks after the tailor on his sport coat was done, he was heading to a wedding. He did not have any dress slacks, so we bought some pants, and he wore his black driving loafers, a pink button-down shirt, and a printed tie with just a little purple in it.
He was so pleased with the many compliments he received.
Carmel Personal Stylist Specializes in Men's Wardrobe Styling
Men's stylists are few and far and between. Luck for you, not only am I a Carmel Personal Stylist for women, but men too. Check out my services tailored just for men. I am happy to help gentlemen of all ages with your wardrobe, please reach out. I work with many men to discover the pieces that work for them.
Keep it sassy,
Beth Divine, MA, AICI-CIC, Image Consultant