Many times, in the course of an Indiana Personal Stylist I consult, men and women on a number of elements that make up your personal style.  We discuss hairstyles, hair color, and even skincare (yes, guys need skincare, too.). Women are, of course, tuned into makeup and what it can do. Some of them have never worn makeup at all or never used any skincare. Further, many of these clients have had skin sensitivity or other issues.  Today, I'm going to share with you some of my common recommendations for hairstyles and skin care for both men and women. I think you'll be surprised at some of my suggestions, but overall any change you make in the world of skincare is definitely an improvement.
Common Skincare Recommendations from an Indiana Personal Stylist
Right off the bat, with any of my clients (men & women) I recommend going back to a dermatologist. These specialists know about skin and often have their own products to sell or their favorite products on the market. As an Indiana Personal Stylist, I recommend whatever they do. They know the science behind skincare better than I do.
But if someone has normal skin, I suggest starting some type of routine. For women, a day lotion with 30+ SPF during the day, and a good, gentle cleanser at night. I might also recommend a night serum and a rich night cream for the face and eyes. I have many favorites including Lancôme, Channel, Clinique (they have a great anti-aging line now), and Kiehl's.
For men, I like Kiehl's cleaning and moisturizers as well as Clinique for men. I will recommend Neutrogena for drug store products, but from my experience as an Indiana Personal Stylist, I know what is sold in the department stores is stronger. Department store products will work better at anti-aging, cleansing, and moisturizing. If you're worried about the price, remember when it comes to these higher-end brands, you will use less each time than you would with drug store products.
Embrace Your Grays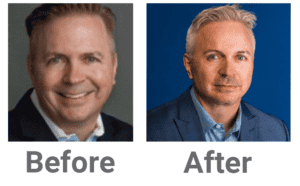 Many times, I have met with men who have dyed their hair themselves or used an over-the-counter product. Sometimes they work. Other times they do not. For men and women alike, at a certain age, no one has the same color all over their head.
We need a little dimension in our hair color. I have started to let a little of the grey show. It's me, after all! For years I would not do this. I often think men look the best when they have a little grey in their hair if that is the natural color. If you're a guy and want some of your or original colors back in, I suggest you ask your stylist for a "greying" effect. Basically, the stylist puts some of your original color back into your hair. It mixes nicely with your white/grey and looks quite natural. Or if you are comfortable with it, I think a man with sharply styled grey hair looks quite distinguished. I have included a photo of a client's before and after, and you will see he looks better in the natural color.
You can see more transformation stories in my collection of before & after stories. These are real clients of mine. You can see first hand how working with an Indiana Personal Stylist can help with your appearance and beyond!
Have the Indiana Personal Stylist Update your Hairstyle and Skincare Routine
Did I mention that I am the only Certified Image Consultant in Indiana who is a member of the Association of Image Consultants International (www.aici.org ). When it comes to hair and skin care, you can trust my experience and accreditation to know what makes you look your best. Contact me today for an in-person or virtual styling consultation.
Keep it Sassy, Indy.
Beth Divine, MA, AICI-CIC
bethdivinestyle.com