It's interesting in my work with clients, how I am privileged to share in all the important parts of life, from weddings to galas, graduations, etc. Since we know that we don't live forever, that includes funerals, too.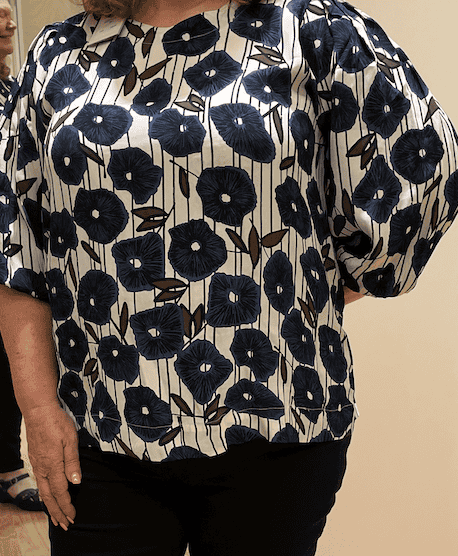 As a Carmel Wardrobe Stylist, one of my very first clients recently contacted me. I had noticed her mother died, after several years from Alzheimer's disease. Kit had been one of her main caregivers. The viewing and funeral were coming up, and Kit wanted help in looking "put together" as her mom would want her to look.
Through the Years
My very first appointment with Kit was when she turned 60. We worked together quite a bit, from the very first color analysis, style/shape consult, closet cleanses, and personal shopping. At our very last appointment, we discussed accessories and putting outfits together. Kit was easy to analyze with her color – she was fair, and a blue-eyed natural redhead. The system I used at the time, as a Carmel Wardrobe Stylist, said she needed Autumn tones. I was so glad I had kept all of my files so I could basically start with good knowledge to make decisions for her.
Funerals as a Carmel Wardrobe Stylist
So, I had to pause – how do we dress at funerals today? Many of us have certainly been to more than usual, especially during COVID. I remember the last funeral I attended was of a fellow choir member at my church who was scarcely older than me. I wore a navy dress with bell sleeves and a pale pink lining on the sleeve. I also remember my aunt's funeral in another nearby city. Aunt Alice's favorite color was red, so that's what she had on in the casket as she was laid to rest, and her daughters wore red as well. I thought it interesting the granddaughter who had been a designer for the White House Black Market company wore a simple black dress and high boots. As a Carmel Wardrobe Stylist, I took note.
Allow me to go down the rabbit hole a bit, Funerals can run high in emotions. I will never forget a family member who had mentioned the deceased was a "cougar" and married to three husbands, whom she outlived. This caused anger and talk long after the funeral. And, then there was my mother who once told me about a relative who wore "leopard" to a funeral. My mother hissed her discontent.
In my mind, like any event, you do follow some unspoken rules for funerals. While you don't have to wear black anymore, just know whatever color you wear you are in an event of mourning. This is not the time to make a fashion statement. As a Carmel Wardrobe Stylist, I like quiet, peaceful colors at funerals, calm prints, and classic colors for men. Leave the athleisure at home as well as bright orange and yellow and extreme animal prints.
Carmel Wardrobe Stylist Suggestions for a Funeral
As I picked out Kit's outfits,  also asked her what she would be doing. Would she be standing outside at the grave, mostly inside, etc?  Was she standing or sitting, in terms of shoe choices? How much black if any did she want to wear?
What I came up with, as a Carmel Wardrobe Stylist, was a combination of Kit's best colors and shapes that would make her look chic and put together as she saw many people from her hometown she hadn't seen in years!
Kit is petite and full-figured so I tried to select outfits in the petite department. Plus, there wasn't time for alterations. For the funeral itself, we went with a sheer black, fitted jacket with ribbons of bright blue over a fitted Min Wang dress. For the viewing, Kit wore the black jeans she had from Talbots with the black polka dot blouse. The V-neck is super flattering and wearing one color head to toe lengthens the body. The floral blouse seen at the top was a close second. It was a pleasure to work with someone I hadn't connected with in a while. All the best to Kit and her family.
Contact Beth Divine Style
If you need help with your wardrobe, do not hesitate to reach out to me! I would love to help you feel confident and cool for your next event.
Keep it sassy,
Beth Divine, MA, AICI-CIC
Carmel Wardrobe Stylist