As an Image Consultant, I am always attracted to the people who really put pride in their image and showcase it. Beauty pageant contestants display their image to be judged and critiqued, so they are an excellent example of how an image is so much more than the clothes we wear.   I recently caught up with my good friend Kim, who just completed the Mrs. America Pageant in Las Vegas. I thought it would be interesting to see what all she did as she prepared for the contest.
Image Consultant Interviews A Beauty Queen
Q: Tell us a bit about yourself and why you decided to be in a pageant.
I came to pageantry late, through Mrs. pageants, as a way to push myself to achieve goals and step out of my comfort zone. I have found pageantry to be a great way to meet wonderful, motivated, community-minded women I would have never met otherwise. Many of these women are now forever friends. Most importantly, pageantry has provided me so many more opportunities to promote the causes I care about and make a greater impact.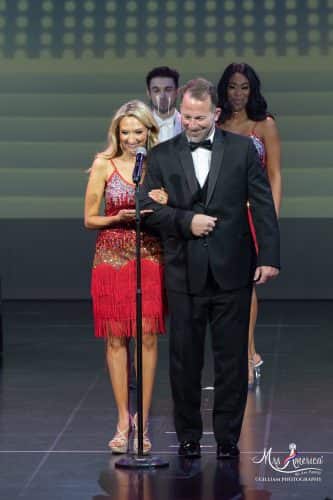 Q: What titles do you have?
I am the current Mrs. MA America. I will crown my successor in Sept. I was also Mrs. CT International 2017.
Q: What wardrobe did you need, and how did you select and prepare it (alterations)?
For the stage portion of a pageant, you typically need an opening number dress (typically a black cocktail dress or a dress provided by the pageant), a swimsuit or fitness outfit (depending on the system), and an evening gown (which you choose on your own). There is also a separate interview portion of the pageant where you meet with the judges one-on-one, either in a panel style or round robin. For that you wear a dress or suit; something that looks professional but also fashionable.
For nationals, you also need a lot of outfits for rehearsals, formal dinners, and other outings. I spent months finding cocktail dresses, rompers, evening gowns, and more casual options to be sure I had enough wardrobe. I took four suitcases full of wardrobe and shoes!
I found some wonderful pieces on FB groups (where pageant women sell both new and used gowns for a discount), online at Nordstrom Rack, and at the online store All Things Crowned. I also took some Lilly Pulitzer pieces. My competition gown (Sherri Hill couture) and my orientation gown (Mac Duggal) were sponsored by my state gown sponsor, Infusion Boutique, which helped a tremendous amount. And your
color analysis
really provided a guideline for me as I selected my pieces!
Q: In What Other Ways Did You Great Ready (Exercise, diet)?
I had a virtual nutrition and fitness coach, Derek Stanley, who kept me on track, which worked really well with Covid restrictions. I did (and still do) macro weight management, which looks at balancing carbs, fat, and protein. This method works really well for me. For workouts, I did a combination of cardio and weights. Coach Derek customized my workouts based on what I had available in my home gym. I tracked my daily food and workouts in an app, and then checked in every week with Coach Derek.
Q: What were finals like in Vegas?
I represented MA at the Mrs. America Pageant in March at the WestGate Hotel in Las Vegas. We competed on the same stage Elvis used to perform on…it was surreal. It included nine days of rehearsals, formal dinners, and outings, and I met so many incredible women. It was exhausting but exhilarating, and the fashion was amazing. It was so fun seeing the gowns that the women selected-so much variety and a true reflection of our many personalities. Covid restrictions made everything a bit tricky, but thanks to MingleMask, a company that donated their innovative clear masks to us, we were able to still see each other and be seen on stage.
Q: What Advice Would You Give A Women Who's A First-Time Contestant?
Listen, learn, and ask questions: lean on women who have experience competing – they will help you. Get coaching if you have the resources to do so. I have utilized walking, interview, platform, and fitness/nutrition coaches during my tenure in pageantry. My coaches have helped me in so many ways, and much of what I have learned translates to other areas of my life. Investing in yourself is always a good investment! Most if all, I would say that if you are at all considering competing, DO IT. Regardless of the outcome, you will grow in so many ways.
You Don't Have To Be A Beauty Queen To Think About Your Image
Beauty queens like Kim are expected to look beautiful when they compete. Where do you compete? In the office? At church? Other social events? Make sure you're showing off your best features with a color analysis or personal styling with a certified Image Consultant. And Father's Day is just around the corner. If you're sick of seeing dad in the same outfit, again, purchase him a gift certificate. It's a great fit for a hardworking professional or someone who is always striving to make a great first impression.
Keep it sassy, Indy.
Beth Divine, MA, AICI Certified Image Consultant