Although it feels like spring just arrived, it's already time to start thinking about summer trends. This season will follow the theme of optimism. Think bright colors, bold accessories, and loud patterns. And, after dressing in sweats for over a year, don't we all deserve to be a little extra? As an Indianapolis Fashion Stylist, I am always trying to keep up with the latest and greatest seasonal trends. Keep reading to prepare for the most exciting summer yet!
Indianapolis Fashion Stylist Breaks Down This Summer's Hottest Trends
Dresses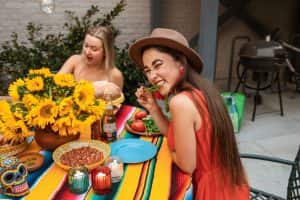 Perhaps the most important trend on this list, dresses should become your go-to this summer. If you want to steer clear of being basic, try dresses with prints, cutouts, and bright colors. In addition to the fact that dresses look fantastic on everyone, they also are extremely comfortable. Whether you try a voluminous maxi dress or a tiny mini dress, you will remain comfy and cool all summer. Personally, I've just purchased this fruit patterned dress from Urban Outfitters. I loved the flattering fit and flare style for my body shape and bold print. I plan on styling it with my favorite Nike's, a straw bag, and gold jewelry accents. However, if you are looking for something more sophisticated, I recommend checking out Banana Republic. Their dresses include slinky silhouettes and beautiful neutral colors. These dresses are easy to take from day to night. Try the Ribbed Racerback Dress with a pair of sports sandals and a tote bag during the day, and swap them out for heels and a clutch in the evening.
Vintage Florals
If you're anything like me, you love a 70's throwback moment. We've seen the rise of platform shoes, and flare jeans, but now vintage floral prints are making a comeback. Now, this may not appetize the minimalists out there, but this trend can be a simple way to add some nostalgia to any outfit. Retailers like Faithful the Brand, Zara, and House of Sunny are absolutely killing this trend. You can implement this trend into your wardrobe with both small and large-scale prints. To start, as an Indianapolis Fashion Stylist, I would recommend purchasing a vintage floral silk scarf. Not only is this a timeless piece, but you can wear it in so many different ways. However, if you love patterns try purchasing a pair of floral pants. They will spice up your usual t-shirt and jeans look, and definitely give people outfit envy! J-Crew always has the best prints, and this season is no different. Check out the High-rise Peyton pant in Ratti® curly floral if you really want to commit to this trend!
Pastels
Although we normally see pastels hit their peak in the spring, they will continue to be hot this summer. Pastels are easy on the eyes and can bring a fresh perspective to any outfit. If you tend to have a warmer complexion, pastels may be harder to wear, but accessories are a great way to still participate in this trend. I'm currently loving Steve Madden's Jelly Block Heel Sandals in baby blue. You could also try a trendy bag or hair clips! For those with cooler complexions, I say the more pastels the better. They will for sure make you glow from head to toe!
Oversized Sunglasses
Another 70's throwback! In the past couple of years, it's seemed like micro sunnies have had everyone's attention, but that will change this summer. Swap your old sunnies for some that are bigger, and better! Bonus points if you purchase shades with colorful lenses, for the ultimate vintage look. Oversized sunnies not only look uber chic but serve the real purpose of sunglasses, which is protection from the sun. Toss on oversized sunnies for your child's sports game, tanning on the beach, or just an afternoon stroll. Warby Parker has so many practical and affordable options. I personally think The Aubrey is the perfect option!
Enjoy the summer sun coming soon, and don't forget to try out some fun summertime trends!
Stay sassy Indy,
Libby, Beth Divine Indianapolis Fashion Stylist Intern