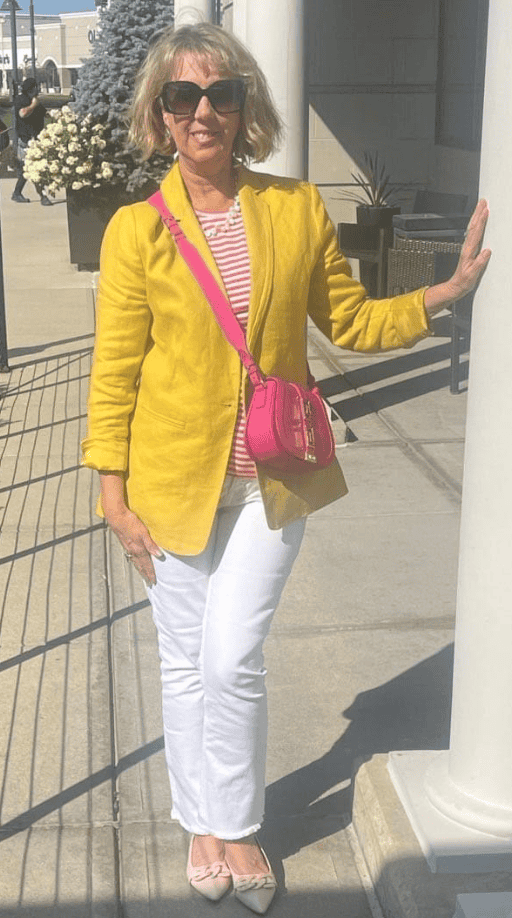 When fall rolls around we start to see the usual fall combinations, and I love them. I can wear many warm colors and embrace them: rust, greens, reds, gold, brown, tan, etc. I don't like to look like a clique, however, so I like to mix up fall with some other colors and combinations you might not even think to wear. To find out what colors you should wear this fall season, contact me to set up your Color Analysis Indianapolis service.
It's not an accident that l love color. Image consultants are some of the most color-sensitive, color-loving, and color-paranoid people on earth. That's why I am proud to stay I am a trained image consultant because of the depth of my training as well as the ongoing continuing education I need to continue to stay a certified image consultant (yes, it's 24 hours of education every three years.)
Anyway, fast forward to a conversation I recently had with a colleague who owns a custom clothing business. I met her nearly 7 years ago at an online conference and was intrigued. Since then, I bought a custom pants outfit as well as a lime green dress (this past summer). Anyway, I put a photo of the dress on Instagram — it was a bright lime green–and the jewelry I selected to wear with it in turquoise and cream beads. Dana told me: "You are clearly more advanced in your color training. I would never have put those colors together nor did I think they would go together." Thank you very much.
Anyway, I do love colors and I love bright colors because I can wear them well. But not everyone can or wants to wear bright colors together. Right? Case in point: my niece used to wear only neutrals such as khaki, brown, black, cream, and gray. But even those colors are mixed into some interesting combinations.
So now I have to take a minute to promote my Color Analysis Indianapolis service. It's my most popular service and very helpful in figuring out how to use color with your personal style (which we all have).
Here are some color combinations I like for fall, based on the color trends we've been told by designers will be popular this season:
As you look at these combos, you don't immediately think of fall clothes. Some of these colors you might have already packed away for next year's spring or summer wardrobe. I challenge you not to do that!
Most obvious is the wearing white after Labor Day rule. You can continue to wear white if you mix in some common fall colors such as beige, red, orange, yellow, and coral. I like to ground the outfit with a brown, python, and red cowboy boot to make it more seasonal.
So my advice for fall outfits is to first, know your best fall colors. Perhaps you say I don't look good in any fall colors. Then put fall colors in your accessories such as red jewelry, olive shoes, a warm animal print, or a plaid purse. You can certainly mix warm and cool colors. One example of that is burgundy and olive. Burgundy is a cool, deep color and olive is clearly more of a muted warm color. Together they are beautiful!!
If you need some help creating a fun, captivating fall wardrobe, message me for a closet consult.
Keep it sassy, Indy!
Beth Divine, MA, AICI-CIC
Personal Image Consultant