Early in my very first appointment with clients, we discuss the importance of shape and proportions. As a Carmel Personal Stylist, I do this with men and women. With women, I take some photos and some measurements to determine whether the person is one of these:
Balanced (the hip is right in the middle of the height measurement and the legs are in proportion to that.)
Shorter legs with a longer torso.
Longer legs with a short torso.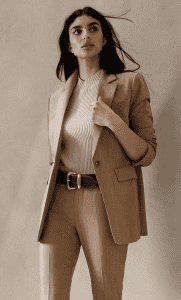 It is really interesting to see the reaction to this news. For many people, it's an a-ha moment: So that's why pants are always too short or too long; I always have camel-toe and loose fabric around my crotch area, or pants are too short, but wait, I am not tall at all.
Thinking about all the clients I've seen over the years, I think most people are not balanced. I consider myself in that camp.
Let me indulge myself: I just to be taller than 5'4″ – but have shrunk a little. This height is a challenge since it's right at the upper part of petite sizing. I am not balanced; my legs are long and my waist/rise is short. That is why I often buy petite pants, especially when the inseam is a little longer.
The funny thing is a petite or even a tall person can still have a short torso or even short legs. A case in point is my husband, Michael. He is a runner; and probably runs at least 40-50 miles a week. He is naturally thin but even more so as a runner. He is 6'1. And you'd think: well he must have long legs. He does not have long legs! He has a long torso and average-long legs with an inseam of 31. What is his challenge in sizing? As you can imagine, it is the jackets and tops that are too short. They are not just a little short, either; they are usually 2-3 inches too short. It's always really obvious when I buy cotton polos. They all shrink. Then they look too short as though I bought the wrong size for him.
How have you dealt with this problem? I've found a couple of solutions:
For suiting, especially blazers, we either buy a custom suit, made and measured for him. This is not a blazer but an off-the-rack suit that is tailored. We have a suit made from the ground up: selecting fabrics, etc. They look amazing and last much longer than a suit bought at Men's Warehouse, Macy's, Joseph A. Banks, or other retailers.
Pants are not an issue since there are many more options today to buy pants and jeans by cut, waist, and inseam.
Dress shirts are not a problem since they are usually tucked in.
Casual pieces such as sweaters, polos, and henley shirts are more of an issue. I have learned I have to buy better quality clothing for him so it doesn't shrink as much.
I have also learned tall sizing does exist. Sometimes I will find them in the department store mixed in with the more popular sizing. But the true hero in this story is the tall size shirt: I buy polos, T-shirts, and other knit items.
Need help with dressing your shape? Reach out for a discovery call to me!
Keep it sassy, Indy.
Beth Divine,
MA, AICI-CIC,
Carmel Personal Stylist and Image Consultant