Everyone likes to know the season's trends, and I do as well. Of course, we have heard that the Pantone colors of the year are yellow and grey. I did a previous blog about how to wear yellow. Many people can't wear, and as an Indiana Personal Shopper and wardrobe consultant, I encourage them to incorporate yellow in an accessory such as a purse, scarf, or jewelry in yellow.  I also love my yellow pointed flats. I wear them with everything for that "pop!"
I completed a class on famous Parisian fashion designers, "Zoom" from Paris, and my instructor who was an image consultant said that pink is "everywhere" on the streets of Paris. From coral-pink, bubblegum pink to hot pink. I do love pink, but surprisingly pink is a cool color, and I am very warm, so I have to wear a warm version of it—more of a coral. I am telling the truth that when I put on coral my entire face lights up. Look at this pink skirt from Saks.
Indiana Personal Shopper Showcases Spring Accessories
On the runways, we saw interesting jewelry such as Beach Beads. These are the types of pieces I tend to pick up on an island vacation to Hawaii or to the Caribbean. They are so fun with their textures and colors. This is a cool trend.
More Spring Necklaces & Jewelery
Second, we are seeing a "Metals Mash." We will see necklaces and earrings with metals in different shapes and textures that we haven't seen before. I love this trend because it will make our "usual" outfits more interesting. Don't be afraid to mix metals. When you have a color analysis you will know what metal is your best one, but I like to add other metals to keep it interesting. For me, gold is my best metal, as is rose gold. I add silver, too, for contrast.
Long earrings to the shoulders with feathers and other fun additions are another trend. You might wonder – can I wear this trend if I am petite? We all should know the scale of how large our prints and jewelry should be. The way around this is the elements themselves in the earrings. As an Indiana Personal Shopper, my advice is if an earring is shoulder grazing but in a very light, delicate material, even a petite person can wear them. If you are tall or larger boned, wear this trend to the fullest!
Pearls in fun, new combinations are another trend we've seen. As I have read more than once – these are not your grandmother's pearls. I saw them in large earrings, giant hoops or large, natural pearls straight from the shell. Very pretty and unusual, they are a great addition to your summer wardrobe.
Purses as necklaces were another trend seen on the runway. They are not new, but the purses come in fun colors and are a practical addition to your wardrobe.
Next week, we will discuss shoe trends and what's in for denim.
Indiana Personal Shopper Can Help You Find The Best Spring Accessories For You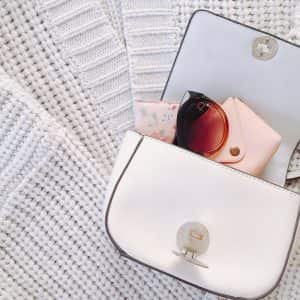 If can't pull off pinks and yellows, it might be that you're just looking at the wrong shade of pinks and yellows. I love pink, but Its the right shade of pink that looks best on me. That is the beauty of knowing your wow colors. If you have never had a color analysis, you are missing out on the easiest way to get dressed each day, in colors that flatter you. And as an Indiana Personal Shopper, if you're too busy, I can always find the perfect spring accessories and buy them for you. Check out my services page and then contact me at beth@bethdivinestyle.com to schedule your color consult.
Keep it sassy, Indy.
Beth Divine, MA, AICI-CIC
Personal Stylist and Indiana Personal Shopper
Source: Who, What, Wear